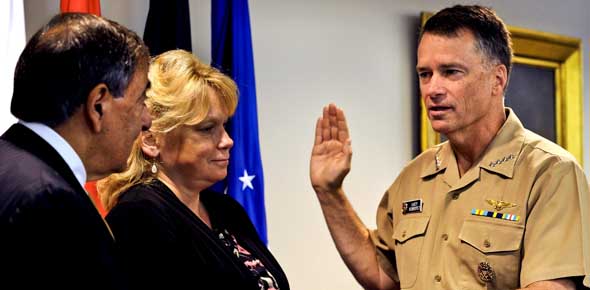 On August 4, 2011 United States Navy Admiral James A. Winnefeld Jr. took the oath of office to become the ninth vice chairman of the U.S. Joint Chiefs of Staff.  Defense Secretary Leon E. Panetta administered the oath while Winnefeld placed his hand on a bible held by his wife during a ceremony at the Pentagon in Washington, DC. The U.S. Senate confirmed Winnefeld's nomination for the position on August 3.  The Joint Chiefs of Staff (JCS) is a body of senior uniformed leaders in the United States Department of Defense who advise the Secretary of Defense, the Homeland Security Council, the National Security Council and the President on military matters.  The new Commander of the United States Northern Command (USNORTHCOM) and North American Aerospace Defense Command (NORAD) is Army General Charles H. Jacoby Jr.
Admiral Winnefeld made two official visits to The Bahamas while serving as Commander of USNORTHCOM and NORAD.  In February 2011, Admiral Winnefeld headed a delegation to Nassau, where he met with Prime Minister Ingraham and other senior government officials to discuss bilateral security issues.  Admiral Winnefeld and U.S. Ambassador to The Bahamas Nicole A. Avant also visited the Simpson Penn Center for Boys where they encouraged the young men to use their second chance to find their purpose in life. At the conclusion of the event USNORTHCOM donated $3,000 worth of sporting goods to the Center, to encourage the 80 residents to adopt positive recreational activities and a healthy lifestyle.
On June 30, Admiral Winnefeld returned to The Bahamas to co-host the U.S. Embassy's Independence Day celebration onboard the U.S. Naval Ship the USS VICKSBURG in Freeport, Grand Bahama.  While in Freeport, Admiral Winnefeld and Ambassador Avant also visited the Grand Bahama Children's Home where they presented a donation of sheets, blankets, footwear, board games and art supplies to the 30 residents as part of USNORTHCOM's ongoing efforts to support local communities and those in need.