Woman tells Foulkes: "Go learn how to take care of ya own first!"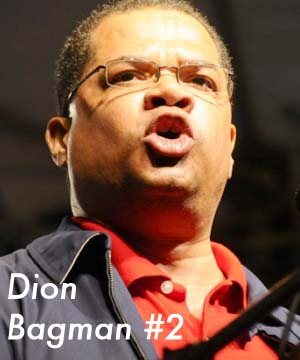 Freeport, Grand Bahama — FNM former Minister of Labour Dion Foulkes got the shock of his life when an unemployed hardcore FNM supporter told him to get him off her property.
Bahamas Press has learnt Foulkes, who traveled to Grand Bahama on Friday via Bahamasair, attempted to fly to the economically strapped northern island in an attempt to seek support for his election bid.
According to reports the hardcore young supporter of the party reminisced how Foulkes did absolutely nothing to address the growing problem of unemployment on the island between 2007 – 2012.
According to a source who was there when Foulkes got cuss out, "There is no way delegates are turning back the hands of time. We are going forward with new blood and fresh faces to capture the hearts and imagination of young people. Foulkes has not won a seat in the parliament in 15 years – Since 2002.
"He is unelectable and if he cannot win a seat in 15 years how in the hell as chairman he can galvanize the advice to make MPs elect able. He needs to focus on his practice, go sit down and join Ingraham in the sunset."
But Foulkes is facing another problem. After his fiery attack on Ingrahamites in the Party, many in the FNM have vowed to leave the Party if Foulkes is given the top job as Chairman, which could paralyze the FNM like the bedridden man at the pool of Bethesda.
According to a group of delegates in the South and Central Bahamas they are placing their bets for the Party's future behind a real Voice of Freedom in the and youthful intellectual Darron Cash.
Cash last week Thursday at Party Council meeting was hailed as a magnet for young Bahamians and was seen with the young leaders of the Party as they called on COBUS [Students at the College of the Bahamas] last week.
Cash believes that once young people are involved in the political process, they can ignite the flames of the FNM once again and return the organization back to governance.
Foulkes has no appeal to young Bahamians because it was under his term as Minister for Labour when 34% of young persons were resigned to unemployment lines and he said absolutely nothing!
"It will be a sad say in the FNM if we elect Foulkes as Chairman. Here is a man who would also have his father as Governor General and another relative as Secretary General of the FNM!" a North Abaco member of the FNM said. "We in the FNM fought against political dynasties, and the last thing we want in the FNM is one family controlling the decisions of an entire political machine in the country. This is dangerous."
Could you imagine one Family is controlling the entire power base of the FNM?

We report yinner decide!