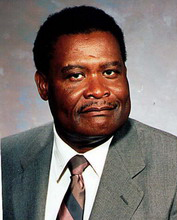 Former PLP Senator in Pindling Government Passes…
Nassau, Bahamas — Bahamas Press is reporting the death of former PLP Senator and Founding President of the Bahamas Musician & Entertainers Union, a position which he held for over 29 years.
Leroy "Duke" Stephen Hanna was born to Mrs. Hester Stevens.
Duke's recognition of the value of the talent and culture which is inherent in our Bahamian resources, and the potential rightful contribution that should play in the development of our country, coupled with his own experiences and the blatantly unjust treatment of the Bahamian musicians and entertainers in their struggle to earn a reasonable wage, took Duke into his second life-long profession as a Trade Unionist and a workers advocate.
He became active in the Bahamas Musicians and Entertainers Union and in 1970 was elected to the post of Vice President which he held for two years before he was elected President in May 1972. Until his death, he held the post of President Emeritus, sat on the Trustee Board and was a member of the Executive Board. Duke was one of the longest serving Union Presidents of a Trade Union in the Bahamas.
As a Trade Unionist, Duke was also a founding member and Vice-President of the Trade Union Congress. In his position as Vice-President, on behalf of the workers of the country Duke was instrumental in the signing of the Memorandum of Understanding between the TUC and the PLP. His lobbying on behalf of workers also helped to win for Bahamians the constitutional right to join a Trade Union of their choice when this was enshrined in the Bahamian Constitution in 1973. His signing of the Reciprocal Exchange Agreement between the American Federation of Musicians of the United States and Canada made it possible for Bahamian musicians and entertainers to perform in the United States and Canada without hindrance.
In 1995 Duke became a founding member and first President of the National Congress of Trade Unions. He held that post for six years, completing his constitutional requirement in November 2001. He received the honor of President Emeritus.
His work on behalf of Bahamian workers also took him into the international arena. He was the Workers Delegate from the Bahamas twice at the ILO Convention in Geneva, Switzerland. He has obtained many special citations for his contributions to the Trade Union Movement in the Bahamas and the Caribbean. As President of the NCTUB he formed alliances and affiliation with the Cuban Labour Congress in negotiating a reciprocal agreement and signed a reciprocal agreement when representing the Bahamas at a Canadian Labour Congress Convention in Toronto, Canada in 1999.
He and his wife Joan owned and operated the famous Traveller's Rest Restaurant.
May he rest in peace.