Save the Bays wants Justice for the KKK attack against their boss!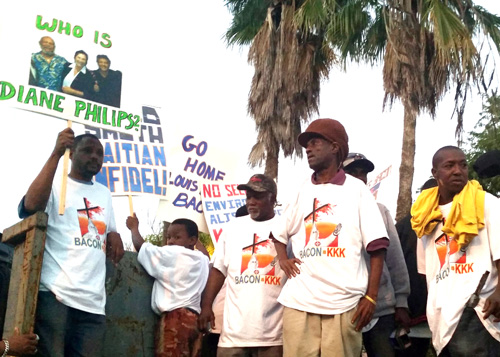 Nassau, Bahamas — More than two months after filing an official complaint over a series of hostile and intimidating demonstrations that left a number of its members living in fear, Save The Bays (STB) says it is concerned and disappointed over the lack of response from the Royal Bahamas Police Force.
In a follow-up letter to Commissioner Ellison Greenslade, STB insisted that the incidents – perpetrated by groups of masked men brandishing hostile messages and engaging in menacing behavior – amounted to "criminal threats, intimidation and harassment", and urged the immediate launch a full investigation.
"Given the serious nature of the hate rallies and the victims' continued fear and anxiety for their safety and well-being, we are concerned and disappointed by your unresponsiveness to the complaint," the letter reads.
"The lack of response to the compliant is particularly shocking since you have in the past given an undertaking to take action against perpetrators involved in similar matters to that faced by the victims."
The letter notes Greenslade's April 2013 warning against the use of social media to malign the character of individuals and points out that the commissioner urged victims of such attacks to report to him personally if they felt the investigation was not progressing quickly.
It also laments the fact that the attacks on STB members were not treated with the same urgency as other recent attempts to bully, defame and verbally attack individuals.
STB's original complaint highlighted a demonstration during the New Year's Day Junkanoo parade, where hostile and xenophobic messages targeted chairman Fred Smith, QC, and renowned international businessman and conservationist Louis Bacon. The men were dressed in Ku Klux Klan (KKK) uniforms, and Banners read: "Bacon is KKK" beneath an image of a burning cross; "Join the coalition to banish Bacon"; "Fred Smith, Haitian infidel"; and "Is Fred Smith a Bahamian or an illegal Haitian?"
Earlier, on December 5, 2014 a similar protest featuring identical banners and costumes attempted to hijack an even in support of the passage of a Freedom of Information Act, organized by STB. Targets included STB education director Joseph Darville, a universally respected veteran educator, as well as newly appointed STB director, well known public relations guru Diane Phillips.
A march through Downtown Nassau in July 2014 attacked Mr. Bacon, Fred Smith and esteemed religious leader Rev. Dr. CB Moss, calling them frauds and terrorists.
"Unfortunately, despite the various attacks on the victims and the large number of persons who have witnessed such attacks and/or may have been influenced by the same, it would appear as if law enforcement has taken a different approach in this matter from other recent cases and that which you expressed in your interview with The Tribune on April 5. 2013," the letter reads.
"Naturally, we are confused by this departure from precedent and as such seek an explanation as to why this matter has not garnered the same attention as those of a similar nature.
"As far as the he victims are aware, the perpetrators of the hate rallies are still at large and at minimum, there has not even been an investigation as to who is responsible for instigating the same."
Founded two years ago, Save The Bays began as a grassroots effort to protect ecologically significant areas of The Bahamas from unregulated development. It has quickly grown into a broad-based coalition calling for comprehensive environmental protections, oil spill legislation and greater transparency in government. With more than 17,200 followers on Facebook, STB is the fastest growing, most popular non-profit, non-government organization in Bahamas history on social media. The group's petition calling on the government to enact an Environmental Protection Act, a Freedom of Information Act, stop unregulated development and end to oil pollution is climbing in numbers, with around 6,500 signatures so far. To get involved, sign the petition or learn more, visit www.savethebays.bs.