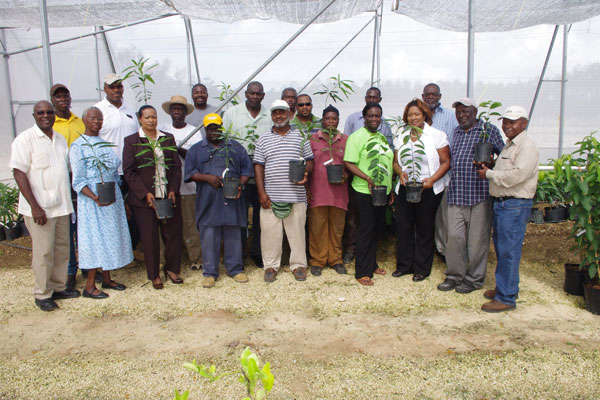 North Andros, Bahamas – Three hundred and sixty fruit trees were distributed to farmers in North Andros last weekend as Bahamas Agricultural and Industrial Corporation (BAIC) press its food security policy.
These are part of 1,500 fruit trees of varieties not common in The Bahamas BAIC is distributing throughout the islands.
BAIC has already started distribution of 5,000 Sweet Cayenne pineapple slips.
BAIC's assistant general manager for agriculture, Arnold Dorsett, explained the aim of the exercise.
"We want to extend the season so farmers can have mangoes coming right through to December," he said.
"So we are making available these trees so they can become suitable bud wood available in the farming community so they can access this bud wood to multiply and to have more trees of what they have."
The trees include varieties of mangoes, avocados, guavas, sugar apple, and sour sop.
"The difficulty is that we cannot get enough of these fruits," said Mr. Dorsett. "So we are providing a new variety of sour sop and sugar apple, for example, so we can supplement what is there.
"We have 10 varieties of mangoes and eight varieties of avocados to extend the season year round."
He was part of the BAIC executive team headed by general manager Benjamin Rahming. Also present were assistant general manager for land, Judith Thompson, and the Bahamas representative for the Inter-American Institute for Co-operation in Agricuture (IICA), Dr Marikis Alvarez.
The team paid a courtesy call on North Andros Scotiabank branch manager, Maxine A Bowe to discuss financial assistance to farmers.