Wife of late the Canon Neil Roach passes….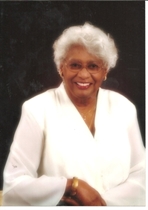 Joan Agatha Roach, wife of the late Canon Neil Roach has died. Bahamas Press expresses our condolences to her entire family on her passing. Funeral Service for the late Mrs. Roach, 79 years of #8 St. Michael Road, Gleniston Gardens, will be held on Friday August 9th, 2013, 10:00 a.m. at St. Agnes Anglican Church, Baillou Hill Road. The Rt. Rev'd. Laish Z. Boyd Sr., Archbishop Drexel W. Gomez and Bishop Gilbert A. Thompson assisted by Rev. Lynden Douglas will officiate. Cremation will follow.
Joan is survived by: daughters – Melanie, Rev'd. Marie and Carol Roach, Michelle (Dr. Derrick) Bailey; adopted children – Otis Brown and Patricia Ingraham; grandchildren – Pavel and Jovan Bailey, WDC 3273 Jewel Gray, Daniella (Julian) Kissoon, and Natasha Williams; sisters – Yvonne and Sheila Wilson, Judith (Kenneth) Cumberbatch; brothers – Alcott (Gertrude) and Wayne Wilson; sisters-in-law -Barbara Grosvenor, June (Desmond) Ballah and Gloria (Bill) Yarrow; brothers-in-law – Selwyn (Grace), Lennox (Beverly), Peter (Odette) and Charles (Patti) Roach; honorary brother Patrick (Eula) Edwards; nieces and nephews – Sonia, Sophia, Henry, Glen Jr., Dereck (Laurie), Andrew, Craig, Ryan, Rio and Dominic (Raquel) Wilson, Lynette (Colin) Thompson, Charmaine (Donahue) Sasso, Kenneth (Chanique) Cumberbatch, Valeria (Delano Jr.) Archer, Trevor (Sandrine) Cumberbatch, Barry ( Laquell), Kirk and Alcott Jr. Wilson, Rhonda (Armin) Ospelt, Tanya (Andre) Foster, Nicole (Cyprianni) Phillip, Shakera, Candice, Dienne, D'Nae and Devon Wilson, Mary-Jo (John) Ballah-Little, Lisa James, numerous adored great nieces and nephews; other family members – the Leona Hanna Family, the Grace Bullard Family, the Everette Butler Family, the Enoch Butler Family, Billy Godet and Family, caregivers Paulette Brown and Lilith; friends – Mrs. Edwina Prime and family, Mr. Theron Hepburn, Dr. Julian Stewart, , Mr. and Mrs. Duke Smith, Gwen McDiegan, Rose Thompson and Dr. Philip Thompson, Mrs. Shelagh Strachan, Mrs. Cynthia Ratcliff, Mrs. Sonia Dillette, Mrs. Diane Stewart, Sir Arlington and Lady Butler, George and Patricia Bethel, Mr. Cleophas Adderley, Mr. and Mrs. Philip Gray, Mrs. Evelyn Alfred and Family, Bishop Laish Boyd and Mrs. Joann Boyd, Archbishop Drexel and Mrs. Gomez, Bishop Gilbert and Mrs. Thompson, Archdeacon Harry and Mrs. Bain, Rev. Angela Palacious, the Anglican clergy and their spouses, the people of the parishes of Holy Cross, St. Matthew's, and St. Ambrose (New Providence), the Pro-Cathedral of Christ the King (Grand Bahama), St. John the Baptist (Abaco), and the Parish of St. Stephen, Central Andros; The Archer, Bartlett, Gray, Nixon, Turner, Hall, Thompson, Watson, Haynes and Reid Families, Marjorie Roach, and others far too numerous to list by name.
A very, very special thanks is extended to Drs. Duane "Ernie" Sands, Paul Ramphal, Cyprian Strachan, Phillip Thompson, Bimal Francis, Conville Brown and Adrian Sawyer and the staff of the Princess Margaret Hospital especially those in the Emergency Room. Thanks also to Therapists Rhoda Hanna and Lavaughn Neymour.
Rest Eternal Grant UNTO HER OH LORD! AMEN!