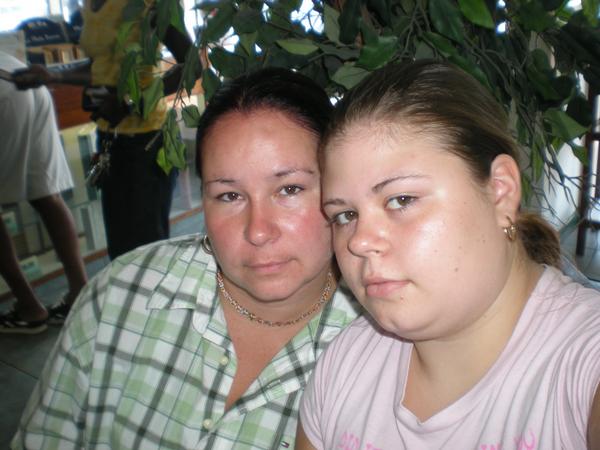 <<< The murdered West Palm Beach woman, Anna Michelle Garrison [Left] and daughter Madison Pugh having lunch together.
Nassau, Bahamas – Bahamas Press' deep throat on the Royal Bahamas Police Force now tell us that Anna Michelle Garrison's daughter is the second suspect police wish to question in this murder investigation.
Bahamas Press today has begun to collect evidence, which points us into another direction into this death investigation. On Thursday around noon police formally charged 22 year-old Zyndall Mckinney in the Magistrate Court in connection with Garrison's death. The young man we know is the boyfriend of Madison Pugh, the 16 year-old daughter of Garrison.
The decomposing body of Garrison, 33, was found in Nassau alongside Fox Hill Road. Police said the victim's feet were found wrapped in plastic and her body in a sheet when she was discovered around 6pm on Saturday.
We also now know Garrison's daughter was living with Mckinney when her mother disappeared the third week of December of 2008. And this is just the beginning of this new developing story. Friends close to the family tell us Garrison actually disappeared at the end of the December and not January as police suggests.
The family friend asked, "Who saw Anna in January of this year? I saw her everyday, but she disappeared towards the end of December, if someone told police she went missing in January, they must have seen her then, and they certainly must also know what happened to her?"
The West Palm Beach woman lived with relatives here in The Bahamas and was reported missing by the United States Embassy on February 25th. We now know she worked at the Coco Mo's sporting lounge on Collins Ave. However, friends of Garrison told Bahamas Press she disappeared in the third week of December and was not seen since.
Pugh [Garrison's Daughter] we now know moved out of the home with her mother to live with her boyfriend, 22 year-old Mckinney, sometime before Anna went missing. For Some time we now know she lived with her father Chris Pugh. Friends tell BP Garrison and her daughter constantly quarreled over her puppy love affair with McKinney, and confirmed the mother-daughter relationship never got better.
A friend of Garrison also tell us the 16 year-old has since disappeared and is indeed the suspect now being inquired by authorities. Police on the island are asking the FBI to assist in searching for Pugh to discover her whereabouts in the US. Police believe Sweeting left the country and in now somewhere in the US. According to a friend, "NO ONE KNOWS WHERE SHE IS."
Friends close to the family say, Pugh told them her mother had to leave for an emergency outside the country in late December, as they began asking her whereabouts.
"When Anna went missing in December, her daughter said to us her mother had an emergency, and had to leave Nassau, and said when she got back she would call us.  We never heard from Anna," the family friend told Bahamas Press.
Where is young Madison Sweeting, the 16 year-old daughter of a West Palm Beach woman who turned up dead, dumped alongside a lonely road in the Fox Hill community? We at Bahamas Press, the residents of this country and the citizens of West Palm Beach Florida all want to know.