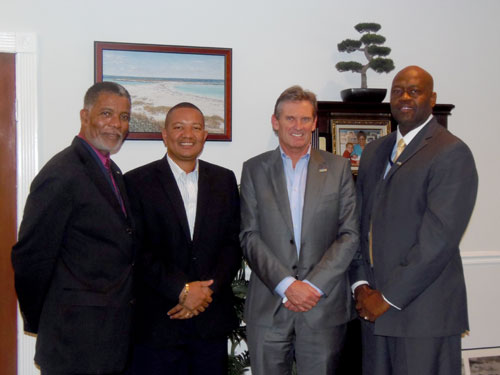 Freeport , Grand Bahama – Leon Williams, CEO of BTC, continues to strengthen BTC's relationship with The Grand Bahama Port Authority, Limited (GBPA) as the recent courtesy visit to GBPA focused on the introduction of CEO of Cable and Wireless, Phil Bentley to GBPA President, Ian Rolle.
"BTC is staying true to their motto: 'listening, improving, delivering, committed'," expressed Rolle. "In Grand Bahama alone we see the strides that BTC is making with the guidance of Cable and Wireless to ensure that the company remains competitive locally, nationally and internationally, as customer's priorities remain number one."
Williams was pleased to be the connector for Bentley and Rolle. All agreed that BTC's current team is the best dynamic to develop and sustain a product that continues to provide quality, reliability and innovative services to their primary target group, BTC customers.