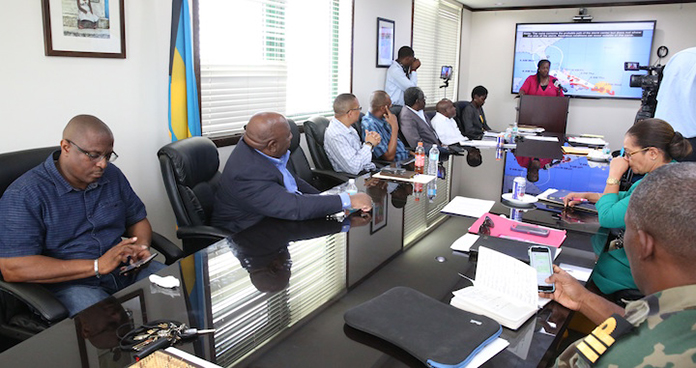 FREEPORT, Grand Bahama — "This is not the time to panic, but to prepare… and to pray."
That was the admonishment from Minister of State for Grand Bahama, Senator Kwasi Thompson, during an emergency press briefing in regards to the threat of Hurricane Irma to The Bahamas, and Grand Bahama in particular.
The press briefing, which was held in the Board Room in the Office of The Prime Minister, gave the opportunity for all relevant authorities to outline their respective ministry's preparedness and most importantly, to urge Grand Bahamians to prepare for the arrival of the massive Category Five Hurricane.
"This is a very serious storm, so we are asking all residents to take the necessary precautions," added Minister Thompson. "While we do all that we can to prepare our homes and our families for an event like this, we also want to acknowledge that there is someone who has even more power than we do, and so we are encouraging all Bahamians to pray.
"As you go about your preparations, we advise you to closely monitor reports from the local Met Office, as these forecasts may change," added Minister Thompson. "It may get better, as well as it may get worse."
The GB Minister urged residents in the flood zones – those living on the coastline — to begin making plans now to evacuate their homes and to move further inland. This, he said, is important because of the potential storm surge and flooding that can arise during the passage of Hurricane Irma.
"I want to appeal especially to those residents in West End, Hunters, Pinder's Point and the surrounding areas, that you should begin now to evacuate those areas," said Minister Thompson. "There are a number of shelters on the island, which will be made available as early as Friday.
"We are advising residents that if you are going to evacuate, this should be done by as early morning, because we believe that the weather is going to go downhill from Friday evening. It should be noted that we have increased the number of shelters here on the island."
Ms. Paula Marshall of the Department of Social Services said that they are in the process of identifying even more shelters for residents, but noted that some have already been prepared.
"As you prepare for the hurricane, we ask that you follow certain protocols," noted Ms. Marshall. "You must secure important documents in a sealed bag or packet and you must take those documents with you if you evacuate to a shelter.
"If you must go to a shelter, ensure that you take along, blankets, toiletries, medications, food and water."
The shelters that will be available to Grand Bahamians include the Foster B. Pestaina Centre (which will be for special medical needs), First Baptist Church, The Central Church of God, Jack Hayward High School, Maurice Moore Primary School, St. Georges High School, Cancer Association, Eight Mile Rock High School, Church of God of Prophesy in Seagrape, A Social Affair, Grace Bible Church and the Freeport Adventist Church.
Deputy Commissioner of Police Emrick Seymour said that the police force is in a state of readiness for Hurricane Irma, but also advised residents not to wait for the last minute to complete their hurricane preparations.
"Some of us may have seen, or heard about some of the devastation which this storm caused in the Leeward Islands, so we have an idea of just how serious this monstrous storm can be," said ACP Seymour.
"All of the policing protocols have been activated in Grand Bahama, Abaco and Bimini. These protocols will be systematically implemented before, during and after the storm. We expect to open our police command center very shortly and that Center will work hand-in-hand with NEMA and the Emergency Operation Center."
Deputy Commissioner Seymour noted that while the police force will be on hand to render aid as it becomes necessary, he stressed that police officers would not put their lives in danger to try and rescue residents during the storm.
"That's why we ask those who live near the coast to evacuate those homes before the storm and we advise residents to make preparations in advance," added ACP Seymour. "Police officers will be out and about as long as the weather permits, to ensure that law and order is kept and maintained. We cannot put officers and other emergency personnels' lives at risk to go out in the middle of a hurricane to make rescues."