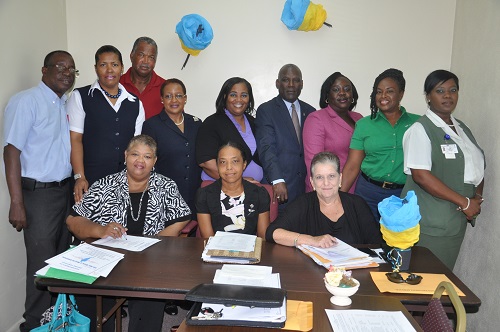 FREEPORT, The Bahamas – The Northern Region Public Service Week Planning Committee, in celebration of the 15th Annual Public Service Week and Recognition of Retirees under the theme, "Charting the Course, Serving the Nation, Securing the Future" held a press conference at the Public Service offices, National Insurance Building, September 17.
In observance of national Public Service Week, October 14-26, 2014, the Planning Committee announced that this year the over 25 years of dedicated service of 18 retired public officers will be celebrated. They also announced that on September 20, 2014 there will be a Fun Run/Walk & Health Screening.
On Sunday, 28th September 2014 at 10:00am a Service of Thanksgiving, is planned for the Pro-Cathedral of Christ the King, and afterwards, an Appreciation Luncheon under the patronage of the Hon. D. Shane Gibson, Minister for Labour & National Insurance and the Ministry of the Public Service, in the National Insurance Building.
Planning Committee members are seated from left: Patrice Johnson, Department of Social Services; Laurie Bullard, Ministry of Public Service; and Lady Naomi Wallace Whitfield, Ministry of the Public Service.