VAT PSA 15 from King Of Hearts Media on Vimeo.
A Happy New Home For Grand Bahamians…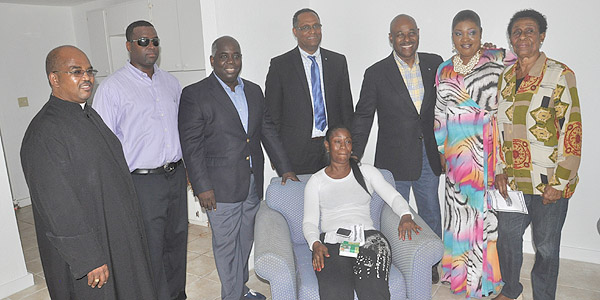 By Robyn Adderley
Bahamas Information Services
WEST END, Grand Bahama — As part of Urban Renewal's Small Home Repairs Project, Ms. Lynette Nesbitt was one of three recipients of newly-renovated housing on Wednesday during a key presentation from Deputy Prime Minister and Minister of Works, the Hon. Philip Davis, and Minister of Tourism and Member of Parliament for West Grand Bahama and Bimini, the Hon. Obie Wilchcombe.
Urban Renewal renovated and restored a building to comprise a triplex of three apartments.  Keys to those apartments were turned over to three families on Christmas Eve.
Deputy Prime Minister Davis commended Urban Renewal's "men and women of valour" who, he said, are "pulling rabbits out of their hats one after the other."
He noted in addition to Urban Renewal's social mobilization, the Small Home Repairs Project benefits homeowners as well as many small contractors on Grand Bahama.  Mr. Davis explained: "the Small Home Repairs Project greatly benefits small contractors, who provide local employment for many masons, carpenters, electricians, plumbers, skilled workers, and helpers, particularly our young men.
"This celebration today evidences but one of 76 homes repaired at a cost of just under $80,000.  This has mobilized contractors from the island of Grand Bahama.
"While employment is a key benefit, the Project also brings much-needed and urgent rehabilitation to unacceptable housing conditions which plague the poor among us."
VAT PSA 14 from King Of Hearts Media on Vimeo.
PSA 18 from King Of Hearts Media on Vimeo.