American Relations with the Bahamas flourishes…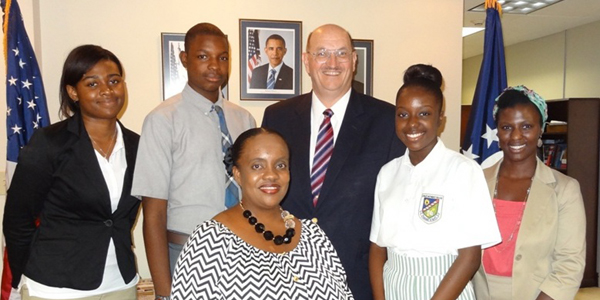 Young Grand Bahamians headed on Youth Exchange…
On Friday, August 26, the United States Embassy formally announced the students and chaperone from Grand Bahama who are headed to Denver, Colorado and Washington, D.C. from October 6-29, 2013, to participate in the U.S. Embassy's second Youth Ambassadors exchange program.  The students who all demonstrated strong leadership skills and a commitment to community service were selected to join youth leaders from throughout the Caribbean in two U.S. cities for three weeks of hands-on community-based activities designed to develop their conflict resolution and leadership skills.
The four youth leaders who were selected for the second of a series of U.S. Embassy Youth Ambassadors Programs are: Alliqueka Capron from Lucaya International School; Aaliyah Vilbrun from St. Paul's Methodist College, Kamaal Bartlett, from Tabernacle Baptist Christian Academy and Gabrielle Moss, from Bishop Michael Eldon high School. Ms. Georgette Thompson, a guidance counselor with the Ministry of Education will accompany the students throughout their stay and serve as a mentor upon their return.
The students' exciting one-day visit to Nassau included a courtesy call on U.S. Chargé d'Affaires John Dinkelman, briefings with the Embassy's Public Affairs staff and a visit to the Ranfurly Home for Children where they were given a tour of the facility and got an opportunity to interact with the young residents at the home.  During the meeting with the Chargé, the students were encouraged to make the most of this unique leadership experience and utilize their new leadership skills when they return in a manner that will have a noticeable impact on their community.
The Youth Ambassadors Program is sponsored by the U.S. Department of State's Bureau of Educational and Cultural Affairs and has expanded to 25 countries, across the Caribbean and Latin America in just 10 years.  The program brings talented high school students to the United States to promote mutual understanding, increase their leadership skills, and prepare participants to make a difference in their home communities by becoming active and engaged citizens through service.