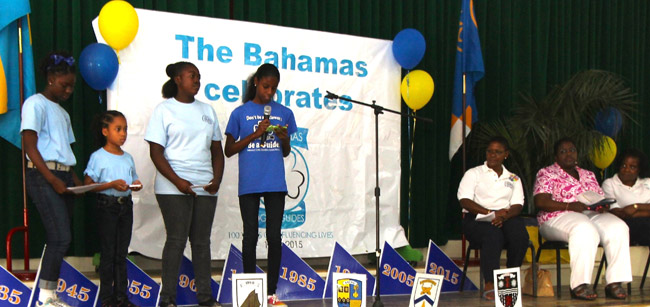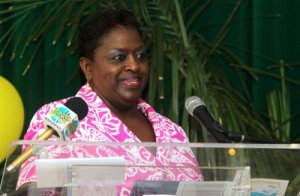 NASSAU, The Bahamas – The Bahamas Girl Guides Association and Girl Guides Associations across the globe have been able to "remain relevant" for millions of young girls for more than 100 years despite operating in "an ever-changing world where there is so much competition for the attention of young girls," Minister of Social Services and Community Development, the Hon. Melanie Sharon Griffin said Monday.
"More importantly, over these 100 years you have positively impacted the lives of millions (10 million in 147 countries) of girls and women throughout the world, molding them into productive citizens in their communities and in their various countries.
"As a former Girl Guide, I can certainly attest to the impact the organization has made in my life and the lives of the many other young girls who have benefitted from the lessons taught and I think it is safe to say that the Girl Guides Association of The Bahamas can take a little bit of the credit for who I am today," Mrs. Griffin added.
Addressing the opening of the Bahamas Girl Guides Association's 'Camp Areitos,' Minister Griffin said Girl Guides Associations in The Bahamas and across the globe have taught millions of girls the value of making sound decisions based on values and principles that emphasize duty to God and country and in helping others, as stated in the Guide Promise.
"The 10 Guide Laws are quite easily the laws of good citizenry in general," Mrs. Griffin said. "Loyalty, helpfulness, politeness, respect, obedience, timeliness and the last law, self control in all she thinks, says and does are all attributes that are so very much needed in our society today by young people and adults.
"We need sound judgment and proactive thinking based upon good values and principles in decision-making, as opposed to brashness ands heated emotion which often result in tragedy."
Mrs. Griffin applauded the efforts of the many former Guide Commissioners and Leaders, many of whom, she said, still support and offer guidance to the organization despite being in their 'golden years.'
Like the Suffragettes who paved the way for women to vote, these women have and still are making significant contributions to the growth and development of females in The Bahamas, Mrs. Griffin said.
"These mentors of Girl Guides in The Bahamas, embody the proverbial village needed to raise a child," Mrs. Griffin said. "I speak of former Commissioners and Guide Leaders such as Ms. Betty Cole, Mrs. Marjorie Davis, Mrs. Clarice Granger, Mrs. Elma Garraway, Ms. Louise Barry, Mrs. Anita Bernard, Mrs. Constance Miller, Ms. Mary Mortimer, Ms. Karen Lightfoot and Mrs. Gail Saunders and so many, many more.
"Like the Suffragettes who paved the way for women to gain the right to vote, these former Commissioners have and still are demonstrating, by word and deed, the importance of giving back. In this way, they have added their names to the list of women who have made significant contribution to the growth and development of our Bahamian society.