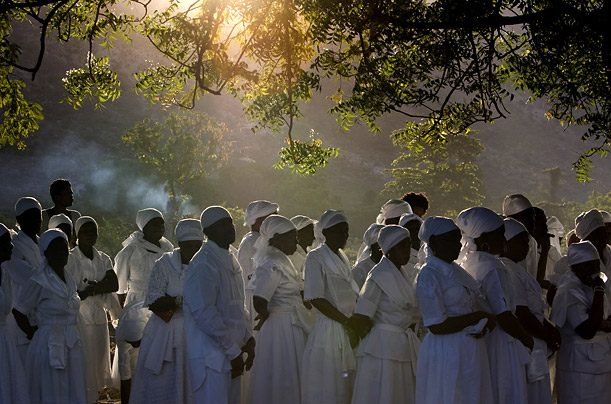 <<< A voodoo ceremony in Haiti whilst Bahamians Celebrate Easter. Voodoo believers take part in a ceremony on Monday 13th, to show their devotion to the spirits in Souvenance, Haiti. We at Bahamas Press believe if Haiti receives $50 billion from the world still nothing will change. It is public rituals like these that continue to send money into a BLACK HOLE! The country is on its belly, yet many still cannot accept the scripture which says, "Blessed is the nation whose God in the Lord!"
When women in Liberia held rallies titled, "PRAY THE DEVIL BACK TO HELL!" A Godly leader arose, sending Charles Taylor (The former leader) who fueled war and mayhem across that country into exile. The people began to be empowered once again and walked in progress! HAITI needs Change! A great nation shackled with Obeah! Bahamas, this should be a lesson us as well, "PRAY THE DEVIL (MUGABE) BACK TO HELL!"
Photo by Ramon Espinosa / AP
Prime Minister Michele Pierre-Louis of Haiti on Tuesday added her voice to a list of `Who`s Who,` gathering in D.C. to appeal for $1 billion in aid to help her struggling nation.
Pierre-Louis, the former director of FOKAL, an organization that supports democracy building through its support of the arts, said Haiti urgently needs money for new public services, jobs, investments and the building of roads.
"We are treading on very fragile ground," Pierre-Louis said. "If no action is taken now the consequences will be catastrophic."
She insisted that `investments in road infrastructures are required to connect parts of the country which have been isolated for centuries; in electricity which is essential to manufactures and tourism, but also to the million of little boys and girls who attend school today and will experience for the very first time, in this 21st century, the joy of studying in the evening by the light of an electric lamp rather than by the flickering flame of a candlelight.`
Representatives of about 40 countries and international agencies, including U.S. Secretary of State Hillary Clinton and former President Bill Clinton, were among those who gathered to plead for Haiti at a donor conference at the Inter-American Bank Tuesday.
The conference received pledges to provide $324 million in additional aid to Haiti over the next two years, of which $41 million is for budget support in 2009. This fresh assistance complements the financing previously committed by international community partners, who are currently supporting projects totaling $3 billion in Haiti.
Secretary of State Clinton for her part urged all to help, since `what happens in Haiti affects far beyond the Caribbean and even the region.`
`This small nation of 9 million people is on a brink … of either moving forward with the help of the collective community or falling further back,` she said. `And it, as well as this region, will be shaped to a large extent by the decisions that we make.`
She also revealed that the U.S. will provide $57 million to Haiti, consisting of $2 million to help train the Haitian police, $20 million for infrastructure jobs, $20 million to help pay off debt and $15 million for agriculture.
Clinton will visit Haiti, the Dominican Republic and Trinidad and Tobago from April 16-19th.
Her husband, former President Bill Clinton, addressing delegates during lunch, said Haiti had always needed help but now the government has a sound plan that needs money to work.
"Haiti has a chance. The best chance in my lifetime," he said. "Haiti has good leaders. Haiti has a good plan, only you can give it them the capacity to do it."
IMF Managing Director Dominique Strauss-Kahn said debt cancellation could free up to $40 million a year for poverty-reducing and pro-growth spending in Haiti.