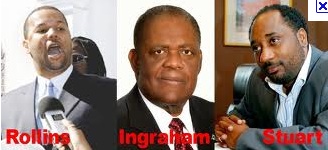 Nassau, Bahamas — Shocking revelations now emanating from within the walls of the National Development Party suggest the newly formed political organization may have been hijacked by one of its founding members.
Bahamas Press has been reliably informed that forces once inside the Party – now connected with the Free National Movement – is hell-bent on destroying the organization in an effort to assist the Governing Party in its general election bid.
BP has learned Andre Rollins, former candidate in the Elizabeth by-election for the NDP, is at the centre of the controversy.  He has gone ROGUE and was seen tipping glasses with PAPA as he drank Ingraham's potion of red cool-aid.
A source in the FNM has confirmed to BP, "We have taken Rollins under our wings and will plant him as the Party's  the new face inside the FNM. He you would know, was the winner of the Elizabeth Great Debate. He is the fresh face Bahamians are looking for and we are prepared at all cost to have no third Party contesting in the next election."
BP has learned Rollins is prepared to take the NDP to court if the organization seeks to use any of its written material. He has further threatened to prosecute their backsides to jail [NDP officials] if they copy, reproduce, republish or redistribute any material from the Party's official website.
Nationaldevelopmentparty.org , Nationaldevelopmentparty.com, and Nationaldevelopmentparty.net we have learned were all registered in the name of Andre Rollins.
Rollins is alleged to have ordered a shutdown of the website by its Webmaster in an attempt to deny access to material by Party officials. We have also learned after leaving the organization's hierarchy, Rollins has since offered the organization the right to buy all written material previously published online.
WAS HIS HEART EVER IN THE NDP OR FOR THE PEOPLE OR WAS HE ALWAYS A SELFISH SPOILED BRAT?
BP can confirm the website is now down, for nonpayment.
Earlier this year BP confirmed Rollins had left the NDP and had met with FNM leader Hubert Ingraham to drink the 'red cool-aid'. Rollins we reported was promised the opportunity to contest the Fort Charlotte Constituency. Following our report Rollins went on National TV and denied he had left the NDP. But today, the chickens have come home to roost.
BP understands Rollins has also met with the Bay Street Cabinet in the East, which meets every Thursday morning. It is the same Cabinet, which has already fired Papa as leader of the FNM and is eying Branville McCartney.
Cassius Stuart's BDM Party is also said to be around Papa's iron cup drinking the 'red cool-aid'.
Boy, We need Change!