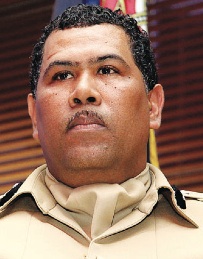 BREAKING NEWS HAPPENING NOW <<< BAHAMAS PRESS IS NOW AT THE SITE OF THE SHERECE M. The VESSEL DOCKED AT THE POTTER'S Cay Dock from Bimini early this morning.
The weapons some believe were cleared by Customs in Bimini from Miami. We can confirm a raid on the vessel by law enforcement officers discovered weapons were hidden in appliances.
Some of the weapons were military war weapons. The arsenals were stashed away in a washer and TV set. A poor looking 53-year-old mother and her  son have been taken into custody for the large discovery. WE CAN DO BETTER!
Robbery in the South
A robbery in the south tell us former criminals who were in trouble for robbery are now back on the streets committing their acts again.
BP can confirm the son of a retired government official was arrested this evening for an armed robbery in the south. Now get this, if you remember some years back a robbery occurred and the same suspect was arrested following a chase with police.
Well that same son of the retired government employee is back up to his old games and has now landed himself in jail again. No one was harmed during the robbery.
Community Turns-in Suspect
Yesterday Bahamas Press called on the Obama Administration to deliver two fully loaded BLACKHAWK helicopters to assists the police in the rampant crime wave now affecting the country. During that report we warned residents in San Salvador to turn over Reshad Dean a 27 year old young male, believed to have been associated with the murder of 21-year-old Onekia Johnson.
Well last night a group of person in the community on the island listened to BP and together turned in Dean to the authorities.
Sources tell us, Police Commissioner, Ellison Greenslade, thank family members and the entire community of San Salvador for turning the suspect in to Police. The COP credited the work of Inspector Eugene Strachan and the Police Officers at San Salvador for the "textbook" work that led to the peaceful capture of Dean.
Still at large is 20-year-old, Garrison Pyform is. He is wanted in connection with the death of 17-year-old Courtney McKenzie a resident of Moss Town, Exuma. We admonish the family to TURN HIM OVER TO POLICE!