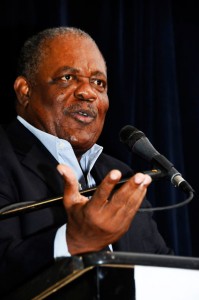 Nassau, Bahamas — Prime Minister Rt. Hon. Hubert Ingraham proved once again he is not for the poor, but continues to look after his rich economically cash loaded benefactors.
Yesterday, the Cabinet Office announced Prime Minister upon arriving back to the capital through the back door, sat and quickly met with oil company owners to come up to speed with the high gas situation.
According to the statement, "Prime Minister Hubert Ingraham met today with Mr. Oswald Moore, Chairman of the Margin Relief Committee of the Petroleum Retailers Association to review the state of the local petroleum sector within the context of the existing local and international economy."
The statement added the PM gave assurances that the Government would revisit the request of the retailers for an increase in pricing margins once the present high cost of gasoline and diesel has decreased.
Now get this, if gas is now pegged as high as $5.55 per gallon, what kind of price would now be imposed on the backs of the working poor to carry the weighty tax of a needed commodity? The government gets $1.25 out of that gallon and the dealer get $0.40 on their margin. If a further increase is imposed, consumers will pay a near $6.00 for gas while the citizens in Venezuela pays $0.46 cent per gallon for the same gas! Look at the backside rape on the poor here in the Bahamas!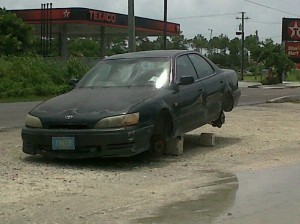 We also note while Papa is looking after his rich powerful connected supporters, we wonder when he will find the same time and sit with the poor scrap mental dealers who for weeks cannot get paid on scrap metals? The sale of such has been band by executive order and to date no word has come from the minister of finance. He refuses to set with them, despite the fact that some 3 in every 5 homes on Grand Bahama is surviving from cleaning up the environment from these old dilapidated cars all over the streets. Meanwhile, while the poor scrap metal dealers cannot buy lunch, gas or jackmackerel, the rich and connected CASH FOR GOLD SHOPS are still cashing in on stolen Jewelery. Why didn't the Cabinet ban those?
A few weeks ago a young girl, while shopping in Mall at Marathon was dragged almost 20 feet as a gangster who wrestled the chain off her neck and ran out of the mall as it gave way.
Papa and the FNM prove once again they have no heart for the poor.
WE CAN DO BETTER! VOTE THEM OUT!