Another #bahamazing event is set to hit the Bahamas!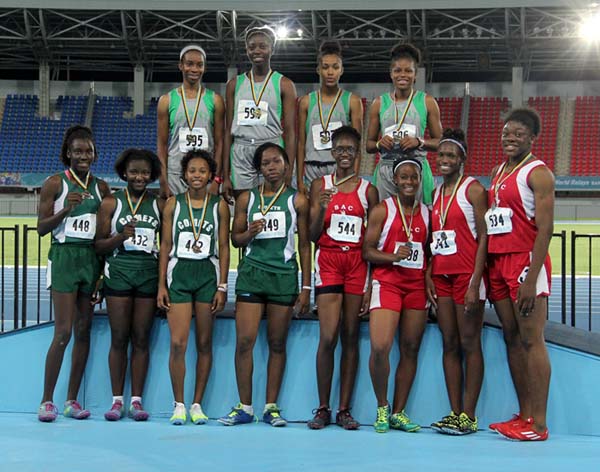 By Lindsay Thompson
Bahamas Information Services
NASSAU, The Bahamas – Hundreds of Bahamians turned out at the Thomas A. Robinson National Stadium on Friday night for the kickoff to the Bahamas National High School Relays 2015 – the Test Event leading up to the IAAF/BTC World Relays Bahamas 2015.
Bringing brief remarks at the opening ceremony was the Hon. Dr. Bernard J. Nottage, Minister of National Security, who was a long time president of the Bahamas Amateur Athletics Association (BAAA).
He observed that the High School Relays was the first, in a series of first class events to be held this year at the stadium. It was organized by the Local Organizing Committee of the IAAF/BTC World Relays Bahamas 2015.
Dr. Nottage thanked the athletes, coaches and support staff of some 42 schools from throughout the country for participating in the event, which he said set the stage for the world to appear in two weeks time for the Relays.
Friday night ended with the exciting race – the Girls 4×200 Meter Relay finals with St. John's College, St. Augustine's College, Queen's College, St. Georges High School, St. Anne's School, Bishop Michael Eldon High, Kingsway Academy and St. Paul's Methodist College competing.
St. John's won with a time of 1:40.55; St. Augustine's College closely behind with a time of 1:40.59 and Queen's College third with a time of 1:40.74.
The High School Relays followed a Float Parade of the student athletes and Pep Rally at the stadium on Thursday, April 16.
In two weeks – May 2-3 — the second edition of the IAAF/BTC World Relays Bahamas 2015 takes place in Nassau.
The world's fastest man, Usain Bolt, will compete at the much-anticipated event, expected to also attract approximately 1,000 athletes and coaches representing 47 countries.