The world is coming to the BAHAMAS!!!!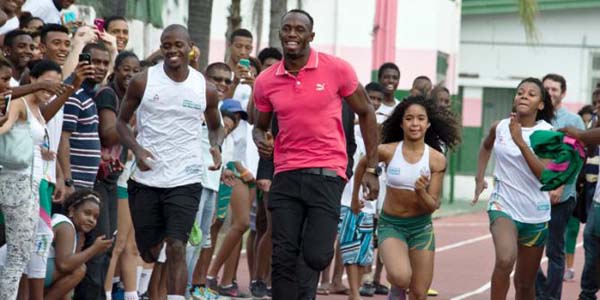 Yinner think KB support this?
Nassau (Bahamas) (AFP) – Six-time Olympic gold track medallist Usain Bolt said Saturday he was hoping to compete for Jamaica in both the 4×100 and 4x200m at next month's IAAF World Relays in the Bahamas.
Bolt, who has anchored Jamaica to two Olympic titles and three world golds in the 4x100m relay, missed last year's inaugural competition due to injury.
But the 28-year-old world 100 and 200m record holder said he would be going to the May 2-3 meet in Nassau with only one goal ahead of the World Athletics Championships in Beijing in August.
"It's going to be serious business for me in The Bahamas," he said.
"The harder I run the better I'll get over the races so I have to run hard to get my body used to competing and running hard and just to get into race sharpness.
"I need to get into race sharpness so when I go on the circuit I'm at the best and that's the main focus."
Bolt, who recently ran a 20.20 seconds 200m at a meet in his home town of Kingston, Jamaica, said he was hoping to run both sprint relays in Nassau.
"I haven't discussed it with my coach as yet but I would personally want to do the 4x100m and 4x200m just to get runs under my belt to get some sharpness," said Bolt, who has plans to compete in the 2016 Rio Olympics and the world championships in the United States a year later before retiring.
Bolt, who acquired his 'Lightning Bolt' nickname when setting three records at under-17 level at the CARIFTA Games in the Bahamas in 2002, added that he would never rest on his laurels.
"I talk to the coach over the years; we talk about motivation and what I need to focus on and on what motivates me, and he said one of the things that I should use is to remember that people don't remember what you do in the past.
"It's all about the present, so I need to focus on defending my legacy and ensure that's intact when I'm finished running," Bolt said.
"He always says I should make sure if I'm not going to put my all in it, I shouldn't do it. He said from the start that if I'm not in good shape he will not go to Beijing with me so I have to make sure I'm in great shape."