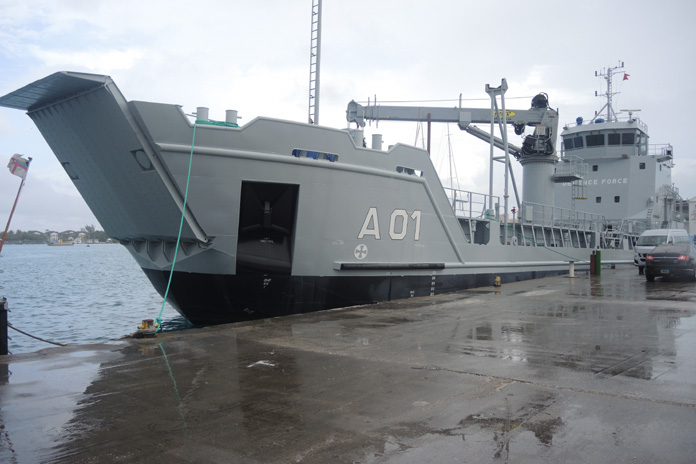 Elcott Coleby
Bahamas Information Services
The fifth and largest vessel in the new fleet of the Royal Bahamas Defense Force as part of the government's Sandy Bottom Project, the auxiliary landing craft HMBS Lawrence W. Major, arrived in Nassau on Friday evening, 4th December. The vessel is currently docked at the Prince George Dock undergoing final testing and inspection before the formal handover to the Bahamas government by Damen executives.
The Sandy Bottom Project is vitally important to building a safer, stronger and modern Bahamas.
At 180 feet (56 meters) in length and 39 feet in width (12 meters), this internationally certified auxiliary Roll on-Roll Off (RORO) vessel is just over 500 tonnes in weight, can carry up to forty 20-foot containers, 60,000usg of cargo fuel and sleeps 24 crew. Acting in his capacity as the Sandy Bottom Acquisition Officer was Lieutenant Nedley Martinborough of the RBDF who delivered the initial briefing and tour to the Minister of National Security, the Hon. Bernard J. Nottage and State Minister in that Ministry, Senator Keith Bell.
Commander Martinborough explained the primary operational functions of this auxiliary landing craft.
"Her primary purpose is for disaster relief and recovery which means she is capable of carrying large amounts of cargo, up to forty containers – twenty foot containers- and large amounts of cargo, dry goods, water. She is capable of carrying fuel cargo, up to 60,000 gallons and water, up to 35,000 gallons for supply to disaster ravaged islands and the like. She is also capable of carrying heavy equipment to move her cargo and also to conduct response activities on disaster ravaged islands." These activities include the removal of downed power lines and poles and clear roads after a hurricane for example.
Dr. Nottage reflected on the many contributions of the late Lawrence Major, calling the man in whose honour the vessel was named a great Bahamian son, a man for all seasons, and a career and esteemed public servant. He said that Mr. Major joined the Royal Bahamas Police Force in 1950, served in several leadership capacities in the Ministry of National Security for over thirty years and led several innovations during his illustrious public service career.
"He was truly a man for all seasons" said Minister Nottage. "He joined the police force in 1950 and retired as Assistant Commissioner of Police in 1980. He spent thirty years directly on the police force and during that time, he was involved in many of the innovations on the police force. For example he was one of the first motor cycle policemen; he was involved when the marine unit of the police force was established and played a major role in drug interdiction. It is said that he interdicted an illegal shipment of 240 tons of cocaine, the largest on record at that time. He was also involved in the establishment of the Defence Force.
"When he retired Sir Lynden appointed him Superintendent of Her Majesty's Prison before his appointment to the position of Director of Security of the newly built Cable Beach Hotel. So he worked in the three areas of law enforcement."
Leftenant Commander Milton Munroe will be the captain of this vessel. Commander Munroe is internationally certified to command vessels of up to 5,000 tonnes.