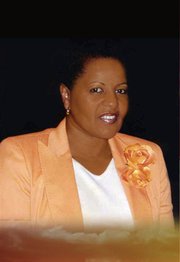 A Letter to Da Editor

RE: HOMOSEXUALITY, the new Norm?
Dear Editor:
Please allow me to respond to a column published in The Tribune of (today) Monday,  November 14, 2011 titled: "Gays have rights too: The Caribbean dilemma" written by the travesty of a man that the British created, whom they call "Sir Ronald Sanders".
It is one thing to be civilized, however, it is an entirely different matter to be Europeanized.  The Europeans did bring Christianity as a part of their civilization process, however, the decadent behaviour which was largely perpetrated under the disguise of religion was anathema to Christian values.
The giving of English titles to people of the African diaspora was merely an inducement to encourage European decadence rather than an acknowledgment of their human equality, yet sadly we embraced their trappings, as if it was "manna from heaven". So much so that many of us began proselytizing our own people.
So-called "Sir Ronald Sanders" has apparently  taken it upon himself to become an international advocate for the Anti-Christ posture of replacing normalcy with the acceptance of homosexuality as a new norm. Why else would he be advocating the intellectual superiority of homosexual persons? Are they not already dominating most of the institutions of State and NGO's in the Caribbean?
A brief overview of the realities of both The Bahamas and Barbados (two jurisdictions where Sanders' columns are published) should make him ashamed to demand more achievements for homosexuals than they have already accrued to themselves, both openly and closetted.
Moving forward, the society must be alerted to the real agenda items masquerading under the guise of Human Rights, which were published and promoted as a 15 year plan
during The Gay Pride March on Washington DC  veiled by the following "rights" arguments:-
1. Demands for the repeal of all laws regarding sodomy!
2. Demands for the legalization of all forms of sexual expression including paedophilia!
3. Demands to change the age of consent to allow sex with minors!
4. Demands for public funding to cover Aids patients medical expenses!
5. Demands for public funds to cover sex-change operations!
6. Demands for the legalization of same-sex marriages!
7. Demands for legalization of adoption, custody and foster care within the same-sex marriage structure!
8. Demands for the inclusion of lesbians, gay men, bisexuals and transgenders in education and childcare!
9. Forbid religious (now artistic) concerns regarding homosexuality from being expressed…already the case on radio/TV in Canada (and now England). This is done through "anti-descrimination" and "hate-crime" legislation.
10. Remove God from public life!  Source: Gay Pride March on Washington DC April 25, 1993.
The "enlightened and modern-day view" of the Public Health concerns which Saunders accuses the Church of Jesus Christ in the Caribbean as constraining political parties from adopting is nothing more than slippery semantics which we are spiritually and morally mandated to expose.  Our education in this regard began with the truth revealed by homosexual activists Marshall Kirk and Hunter Madsen outlined in the law review "Crafting Bi/Homosexual Youth", by Judith Reisman, (http://www.regent.edu/news/lawreview/articles/14 2Reisman.doc).  According to Kirk and Madsen, "AIDS gives us a chance, however brief, to establish ourselves as a victimized minority."
Reisman further writes…"To hide the fact that most AIDS children appear to be infected by bi/homosexuals, the "World AIDS Day" artfully reports that "16% of adolescents with AIDS, aged 13 through 19. . .have been infected through heterosexual contact," rather than that 84% of AIDS children are infected by male bi/homosexual sex abuse."
Mr Roger Williams in an exhaustive piece titled: "TOWARDS A POLICY FRAMEWORK OPPOSING EFFORTS TO DECRIMINALIZE HOMOSEXUALITY" published in the Jamaica Star Forum on May 28th, 2009 gave brilliant arguments for consideration by one of CARICOM's departments, PANCAP, when it indicated that it would in November 2008 be recommending to the region's Attorneys- General the decriminalization of homosexuality and prostitution.  Strongly advising against such folly Williams wrote:
"Homosexuality (more correctly labeled Same-Sex-Attraction-Disorder) should be openly acknowledged as what it is. . . a mental disorder that should be medically and socially contained with every resource available to democratic populations and governments…..simply because it insidiously attacks very vital pillars of free communities. . . Manhood, Womanhood, Marriage, Family, Sex. . . and places children in harms way in an unprecedented manner, as well as being responsible for a phenomenally disproportionate degree of incidence and spread of disease and infection in accommodating populations."
The agenda to decriminalize homosexuality in The Bahamas caught Bahamian church leadership and their flock asleep on the wall as our parliament stealthily passed the Sexual Offenses Act 1991 which removed the term "Buggery" from our Penal Code, while declaring Sodomy a normal sexual activity between consenting adults. However, the recent homosexual molestations and unpunished murders of Bahamian children have sidelined the aggressive political proposals by homosexual activists and silenced their sympathizers.
So-called "Sir Ronald" should take a good look in the mirror and re-assess his crusade if we are not to conclude that his intent is to further homosexuality in the rest of the Caribbean!!!
Sincerely,
Phillippa "Lady" Russell
———————–
A BP ADS