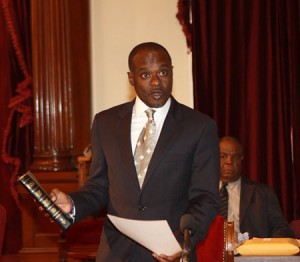 Nassau, Bahamas – The Hon. John Bostwick was sworn in as the newest Free National Movement Senator, February 15, replacing the Hon. Zhivargo Laing, who resigned December 31, 2012.
Senator Bostwick was the FNM's Bain and Grants Town candidate during the May 2012 general election. John Bostwick II was born in Nassau to Mr John Henry and the Hon. Janet Bostwick. He was educated at Nassau's St. Andrews School where he was Deputy Head Boy, and at England's University of Keele, where he earned a bachelor's degree in law and philosophy. As a member of barristers association Gray's Inn, John has been called to the Bar of England and Wales and of The Bahamas.
From his time as a youth in the political process, John developed a passion for improving the welfare of the nation's elderly and at-risk youth.
He founded the social outreach programmes HOLD (Homes for Old, Lonely and Destitute), Positive Vibes and Yah Roeh to assist the elderly and to build a bridge so our vulnerable Bahamian youths might become successful members of society. Separate to the trio of organisations, John has shepherded social welfare efforts for the care of the elderly, home repair and renovation and food distribution programmes. He is also the author of "Bahamas 20/20 Vision," a 20-year national plan for the country.