Nassau, Bahamas — Bahamas Press along with members of the wider Bahamian community are now witnessing what can only be described as the 'UPBIZATION' of The Bahamas!
On yesterday Robert Mugabe's twin, Hubert Ingraham, caused the appointment of Queen's Counsel in the Commonwealth through the Governor General.
The eight lawyers all hail from 'White Knight' law firms were appointed Queens Counsel: Brian Moree – Mckinney Bancroft & Hughes, Philip Dunkley – Higgs & Johnson, Colin Callender – Callender & Co, Fred Smith – Callender & Co, Emerick Knowles- Alexiou Knowles & Co, John Delaney – Higgs & Johnson, Brian Simms- Lennox Paton and Sean McWeeney – Graham Thompson & Co.
A Queens Counsel is also known as QC or Silk. They are often referred as Silks, because whenever one is promoted as a Queens Counsel their court robe is made of silk.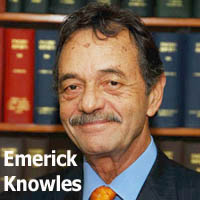 Bahamas Press is not by any stretch of the imagination questioning the abilities of any of these men. To us they are simply senior officers of the court. But we patiently wonder why would Robert Mugabe's twin contrive the idea of appointing all from 'WHITE KNIGHT' law firms?
Why would Ingraham, while on his last one leg hop out of power, not see the need to bring along and lift to the status of QC eminently practitioners of the court; Damian Gomez or a Wayne Munroe just to name a few. Person who we know have been active on the front lines of the profession in this country.
Why would not that man we liken as the DEVIL, clothe in a cloak as Prime Minister for the small, the weak and the down trodden seems to always have a special eye for the people of the 'lighter hue', the rich and powerful? The country's BIG WIGS or better yet, BAY STREET!?
What about the smaller independent firms, which have produced some of the finest professionals in the legal profession. But this is Mugabe at his best; blessing those who have with more while he jail and threaten to imprison the backside of those who struggled up the ladder as he did.
We need Change Bahamas. Please, for goodness sake Bahamas send Hubert Ingraham home! Please send this Damn Pedophile PROTECTIVE Government HOME!