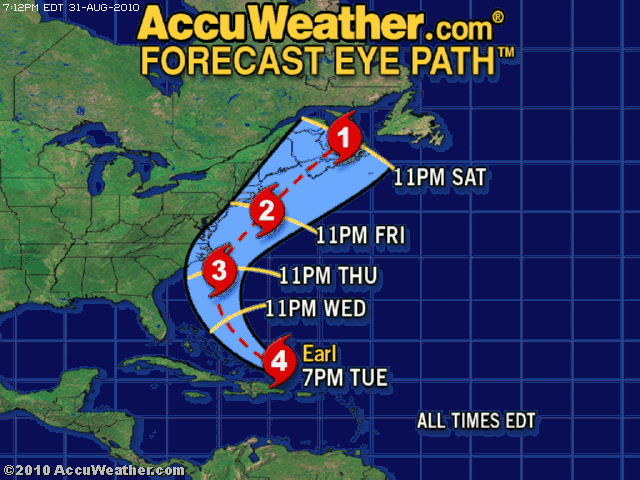 By Alex Sosnowski,
Expert Senior Meteorologist
Hurricane Earl's strength will fluctuate through eventual landfall over Atlantic Canada this weekend.
While the storm may have missed its chance at becoming the infamous perfect Category 5 Tuesday, it remains a very dangerous storm.
"Satellite imagery as of Tuesday morning indicated that Earl was undergoing eye wall replacement," according to AccuWeather.com Tropical Weather Expert Dan Kottlowski.
"Central pressure on the storm was also up a bit, a sign of slight weakening," Kottlowski added.
Once it completes the eye wall replacement, Earl is likely to regain strength.
This common phenomenon is usually temporary and basically causes the storm to reorganize. Hurricane Katrina went through eye wall replacement over the Gulf of Mexico.
Dry air in the wake of Danielle was also being funneled southward into the western side of Earl.
Because of this, and the countering very warm Gulf Stream waters, AccuWeather.com meteorologists expect Earl's intensity to vary slightly.
Kottlowski cautioned, "For a hurricane to become a Category 5, perfect atmospheric conditions have to be present."
It is hard to say if yet "another" eye wall replacement will take place before nearing the Outer Banks, but it is certainly possible.
There is no way to accurately predict eye wall replacement.
However, people should not dwell on the exact strength of the hurricane. Earl's track is the more critical issue.
The most dangerous part of a hurricane is the eye wall. If that passes over a land area, there is the risk of extensive damage and greatest risk of loss life.