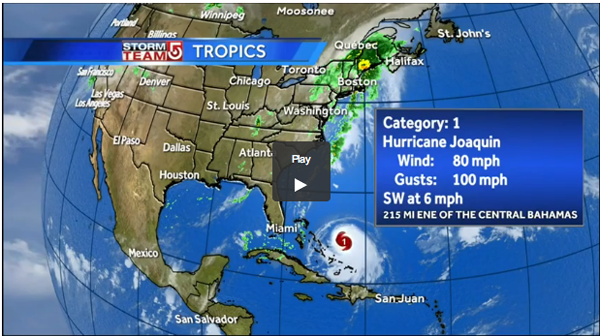 NEMA Prepares the Country for Hurricane Joaquin
By
The National Emergency Management Agency
NASSAU, The Bahamas – The National Emergency Management Agency (NEMA) officially partially activated the National Emergency Operations Centre as of 9 a.m. on Wednesday, September 30, 2015, to track and monitor the projected path of Tropical Storm Joaquin, a storm that is forecasted to become a hurricane.
Director of NEMA Captain Stephen Russell said that the Operations Centre will remain activated until the system moves away from The Bahamas and could be fully activated upon advice from the Department of Meteorology on the status and location of the hurricane.
The Department of Meteorology said that a Hurricane Warning is now in effect for the Central Bahamas which includes the islands of Long Island, Exuma and its cays, Cat Island, Rum Cay and San Salvador.
A hurricane warning means that hurricane conditions could affect the mentioned islands within 36 hours.
A hurricane watch is also in effect for the Northwest Bahamas, which includes the islands of Eleuthera, The Abacos, New Providence, Andros, the Berry Islands, Bimini and Grand Bahama.
A hurricane watch means that hurricane conditions can possibly be experienced in those islands within the next 36 to 48 hours.
According to the Department of Meteorology, at 8 a.m., EDT, the center of Hurricane Joaquin was located near latitude 24.9 degrees north and longitude 72.2 degrees west or about 137 miles east-northeast of San Salvador or about 221 miles east of Governor's Harbour, Eleuthera, and about 282 miles east of New Providence.
Hurricane Joaquin is moving toward the southwest near 6 miles per hour. A general motion toward the west-southwest or southwest is expected to continue through tonight. A turn toward the west and a decrease in forward speed are forecast on Thursday. On the forecast track the center of Joaquin is expected to move near or over portions of the central Bahamas tonight and Thursday.
Maximum sustained winds have increased to near 75 miles per hour with higher gusts. Additional strengthening is forecast during the next 48 hours.
Hurricane force winds extend outward up to 30 miles from the center. Tropical storm force winds extend outward up to 125 miles from the center.
Moderate to severe flooding can be expected as Hurricane Joaquin is forecast to produce 5 – 10 inches of rain with isolated amounts of 15 inches possible over San Salvador and Rum Cay through Friday morning. Rainfall amounts of 3 – 5 inches are possible over the remainder of the Central Bahamas through Friday morning, with 2 – 4 inches expected over the northwest and southeast Bahamas.
Small craft operators throughout The Bahamas should remain in port as large swells generated by Joaquin will affect The Bahamas during the next few days.
Captain Russell added that NEMA is in contact with Family Island administrators, in all the areas that are in the warning and watch areas, to ascertain their level of preparedness and to ensure that they have met with their individual island disaster committees.
"We advise all Administrators in the watches and warnings areas to finish preparing their shelters so that they will be open and functioning by 6 p.m.," Captain Russell said.
With Hurricane Season well underway, we present herewith The Bahamas Hurricane Shelters List for 2015.
The National Oceanic and Atmospheric Administration (NOAA) forecast is for a below-average season with 6-11 named storms, 3-6 hurricanes, and 0-2 major hurricanes (Category 3-5 storm). The average Atlantic hurricane season (based upon 1981-2010) typically sees 12 named storms, six hurricanes and three major hurricanes.
The names that will be given to storms during the 2015 season are: Ana, Bill, Claudette, Danny, Erika, Fred, Grace, Henri, Ida, Joaquim, Kate, Larry, Mindy, Nicholas, Odette, Peter, Rose, Sam, Teresa, Victor and Wanda…
NEW PROVIDENCE
EASTERN DISTRICT
New Dimensions Ministries ~ Joe Farrington Road
Epiphany Anglican Church – Prince Charles Drive
Epworth Hall – Shirley Street
Holy Cross Anglican Parish – Highbury Park off Soldier Road
Kemp Road Ministries – Kemp Road
Pilgrim Baptist Church – St. James Road
Salvation Army – Mackey Street
St. Mary's Hall/St. Augustine College – Bernard Road
SOUTHERN DISTRICT
Agape run Gospel Baptist Church ~ Kennedy
Golden Gates Assembly – Carmichael Road
New Bethlehem Baptist Church – Independence Drive Southwest
Cathedral Church of God – Augusta & Patton Streets
CENTRAL DISTRICT
Church of God of Prophecy – East Street
Calvary Bible Church – Collins Avenue
Church of God of Prophecy – Augusta & Patton Streets
Ebenezer Mission Baptist Church ~ St. Charles Vincent Street
Salvation Army ~ Meadow Street
St. Barnabas Anglican Church – Wulff Road & Balliou Hill Road
WESTERN DISTRICT
Mount Moriah Baptist Church ~ Farrington Road
Church of God of Prophecy Gambier – Gambier Village
Bahamas Association for the Physically Disabled – Dolphin Drive
New Providence Community Church – Blake Road
GRAND BAHAMA ISLAND (See attached below)
GRAND BAHAMA ISLAND – CITY OF FREEPORT
St. George High School Gym
Cancer Association
Church of Christ
Foster Pestaina Centre (Special Needs)
First Baptist Church
Central Church of God
Sir Jack Hayward High School
Maurice Moore Primary School
GRAND BAHAMA ISLAND – WEST GBI
Eight Mile Rock School Gym
Martin Town Primary
BIMINI
Gateway Outreach Church Gymnasium (Porgy Bay)
Former Bimini Public Clinic (Bailey Town)
Bimini Burial Society Hall (Alice Town)
Bimini Big Game (Hotel)
ANDROS
NORTH ANDROS DISTRICT
Nicholl's Town Primary School
Church of Christ
Church of God Of Prophecy
Mt. Sinai Baptist Church
Pleasant View Assembly of God
First Baptist Church
Salem Baptist Pre-School
CENTRAL ANDROS DISTRICT
Church of God
Pentecostal Church
Bowen Sound Catholic Church
St. Paul's Anglican Church
Voice of Deliverance
Mount Sinai Baptist Church
Mount Ethel Church
Stafford Creek Primary
St. Bartholomew Church
SOUTH ANDROS
St. Andrew's Anglican Church
High Rock Primary School
Long Bay Cays Preschool
Deep Creek Primary School
St. Paul's Baptist Church
St. Mary's Anglican Church
Mt. Olive Baptist Church
SAN SALVADOR & RUM CAY
Zion Baptist Church
St. James Baptist Church
St. Johns Baptist Church
Gerace Research Centre
Idell Jones Community Hall
St. Christopher Anglican Church
CAT ISLAND DISTRICT
St. Andrew's Anglican
Holy Redeemer Catholic Church
Mt. Sinai Baptist Church
Zion Baptist Church
St. Mark's Baptist Church
Seventh Day Adventist Church
Zion Baptist Church
Lovely Zion Baptist Church
CROOKED ISLAND & LONG CAY
Church of God of Prophecy
St. Paul's Baptist Church
All Saints Anglican Church
Seventh Day Adventist Church
St. John's Baptist Church
Desmond's Duplex
Command Centre – Administrator's Office
ACKLINS
North Acklins Shelter/Clinic
St. Paul's Baptist
Church of God of Prophecy
Zion Ebenezer Baptist Church
Good Samaritan
Command Centre – Administrator's Office
MANGROVE CAY
Mangrove Cay High School
Burnt Rock Primary
ELEUTHERA
CENTRAL ELEUTHERA
Resource Centre
Salvation Army
Church of the Nazerine
Governor's Harbour Primary School
Camp Symonette
St. Mark's Native Baptist Church
Cambridge Villas
SOUTH ELEUTHERA
Church of God of Prophecy
Rock Sound Primary
Green Castle Primary
Wemyss' Bright Primary School
Deep Creek Middle School
John Miller's – Bannerman Town Association Community Library
NORTH ELEUTHERA & HARBOUR ISLAND
Lighthouse Church of God
Wesley Methodist Church
Trinity City of Praise Centre
Mission Church of God
People's Haitian Baptist Church
John Wesley Methodist Church
CURRENT ISLAND & SPANISH WELLS
Current Community Centre
Zion Methodist Church
EXUMA, EXUMA CAYS
St. Mary Magdalene – Williams Town Anglican Church
St. Peter's Union Baptist Church
St. Matthew's Baptist Church
Mt. Carmel Baptist Church
St. Andrew's Community Centre
St. Theresa's Catholic Centre
College of the Bahamas Resource Centre
New Mt. Hermon Baptist Church
Palestine Baptist Church
Ebenezer Baptist Church
St. Margaret's Anglican Church
Ebenezer Baptist Church (Rolleville)
Mt. Sinai Union Baptist Church (Stuart Manor)
Ebenezer Baptist Church (Barretarre)
St. Mary's Union Baptist Church (Farmer's Cay)
St. Luke Baptist Church (Black Point)
Mt. Oliveth Baptist Church (Staniel Cay)
RAGGED ISLANDS
Administration Building
MAYAGUANA
Pirates Well Primary School
Abraham's Bay High School
BERRY ISLAND
Church of God of Prophecy (Great Harbour Cay)
LONG ISLAND
Seymour's Gospel Chapel
Highway Church of God
St. Joseph Anglican Church
First Assemblies of God Church
Senior's Recreational Centre
Community Centre – Clarence Town
St. John's Anglican Church
Holy Cross Anglican Church
Holy Family Anglican Church
The Church of Ascension
INAGUA
Zion Baptist Church
St. Michael's Methodist Church
St. Phillip's Comm. Center (as a last resort)
ABACO
NORTH ABACO
Amy Roberts Primary School
St. Andrews Baptist Church
Faith Walk Church of God (Community Center)
Ebenezer Baptist Church
New Hope Baptist Church
Fox Town Primary School
Revival Time (Youth Hall)
Pentecostal Church of God
Grand Cay All Age School
Shiloh Baptist Church
CENTRAL ABACO
Central Abaco Primary School
Abaco Central High School
St. Francis de Sales Church
Hope Town Primary School
Man-O-War Public School
Friendship Tabernacle Church
Guana Cay All Age School
SOUTH ABACO
Soul Seeking Ministry
Moore's Island All Age School
Crossing Rock Primary School
Casuarina Point Fire Station
Assemblies of God Church
Sandy Point Community Center