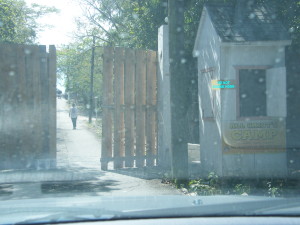 Nassau, Bahamas — Bahamas Press cries 'DUTTY' SHAME on the FNM government for their naked neglect and 'vicked' abandonment of the people residing at the All Saints Camp of St. John The Divine on Lazaretto Road.
Here's  a story you cannot find in the pages of the Tribune even though the community, where AIDS victims find refuge, sits in the heart of Charles 'Pillsbury Doughboy' Maynard's Constituency.
BP visited the camp yesterday following up concerns by residents in the Golden Is. Constituency. Constituents expressed their disgust and outrage towards the "NO COMPASSION" government of Papa.
 One neighbor in the area told BP, "Why would this government be so cold and deny assistance to these victims of humanity? They have abandoned these people; they have made them suffer under greater stress than they ought to be living under. Their small homes have no running water and now BEC has disconnected their light? WHAT A SHAME!"
A resident at the camp in her sadness reflected on the state of her condition and told BP, "Social Services have abandoned us and today it appears that since Fr. Glen passed we are just passing through the earth."
Bahamas Press has learnt for almost two months now BEC ordered the disconnection of the camp's power supply to some 54 persons who reside in the community. Some including children are finding it difficult to cope in the sweltering heat. The community has a bill of almost $74,000. The amount we are told is owed to the Corporation for years increasing every month.
"We are not asking for much, we just want a chance to survive. No one would hire us and this compounds the situation," another resident said.
Readers would remember the quick action of the government, which mobilized to assist those of the Haitian Community in Mackey Yard area just off Fire Trail Road, following the fire. That community of squatters erected Pole #44 and connected power supply from BEC to over 200 residents. BEC has yet to tell Bahamas Press how did pole #44 got erected and how did it supply power to over 200 persons for years without paying a dime to the Corporation.
BP is appalled and is dangerously disgusted by the behaviour of BEC and the government's agencies to the suffering at the Camp. THEY HAVE NO COMPASSION for the poor and weak.
As residents assisted aide for the Ranfurly Home for orphans; following the Papa's cold slashing of funds, so should the country gather together and assist the weak amongst us at the Lazaretto gate.
WE NEED CHANGE!