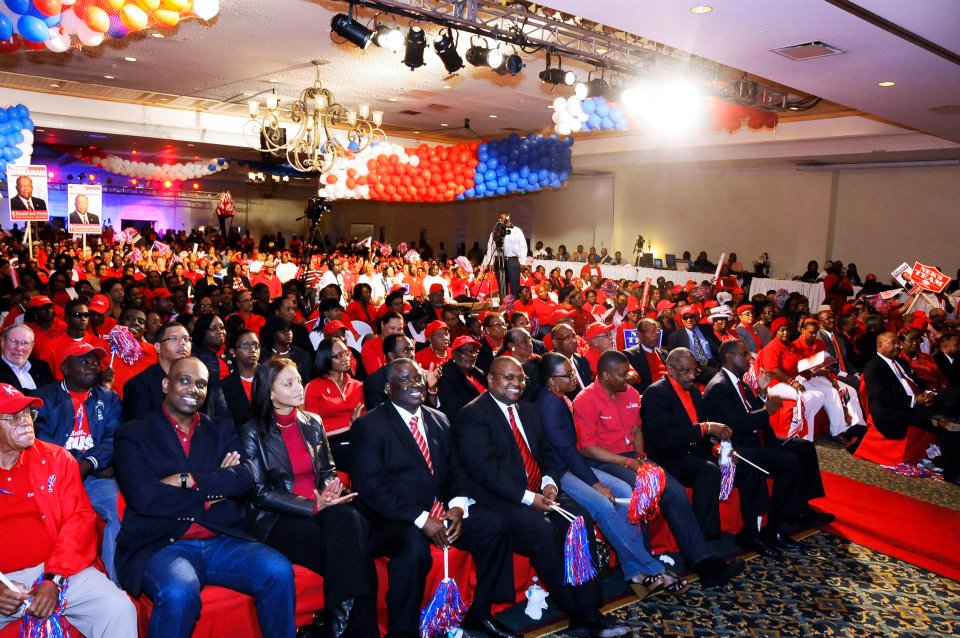 Remarks
Introduction of Grand Bahama Candidates
Free National Movement
Rt. Hon. Hubert A. Ingraham
Party Leader
15 January 2012
FNMs: We are making ready; it's time to register to vote.  And soon, it will be time to vote.  Colour Red is coming again.
Before I speak to you on our mission here today, I want to say some words of thanks to all of our aspiring candidates but most especially to Senator Frederick McAlpine and to Philcher Grant.  And I want to say a few words about Michael Pintard who has nobly taken on a special mission for our Party and our country – sending Brave Davis packing once again from the Cat Island, Rum Cay and San Salvador Constituency seat.
I want to inform all of you that once the Executive Committee had made its determination to recommend Peter Turnquest for the nomination I wrote to Senator McAlpine and explained that the decision had been influenced by the fact of Peter, a former President of the Grand Bahama Chamber of Commerce enjoys an especially close relationship with
the business community in Grand Bahama. Hence, he is very well placed to advance our aggressive economic and business agenda for Grand  Bahama.
I also conveyed my personal thanks and appreciation, and that of our Party for Mc's energetic support over the years. And I recorded our expectation of his active participation in this campaign.   We can all be confident that Frederick McAlpine will continue to play an important role in our next FNM Government as we continue our efforts to reform and modernize The Bahamas.
I want to record the pride we all hold in Philcher Grant's accomplishments as an individual.  Philcher grew up in our Party, was involved in the Torchbearers.  Many of us were of the view that she could be that strong second female on our Grand Bahama ticket.  Other needs of our Party and country means that Philcher's time has not yet come.  As I have said about McAlpine, we look forward to Philcher's active participation in this campaign and we are certain that she will have a role to play in our next FNM Government.
I want to say a few words to Michael Pintard who has the distinction this year, of having been the preferred candidate of two constituency associations – East Grand Bahama and Cat Island Rum Cay & San Salvador.  Michael has strong ties in both communities.  I and our Party determined that we needed him in Cat Island, Rum Cay and San Salvador and he heeded our request.  He will be our standard bearer in that constituency.  We are fully confident that Michael can return Cat Island, Rum Cay and San Salvador to the FNM fold.  We did it before and those communities benefitted.  We must do it again because the Lord knows Cat Island, Rum Cay and San Salvador need a representative who is interested in their development and welfare and Michael Pintard is that man.  Thank you Michael; I and our Party are very thankful and appreciative of your loyalty and dedication to our national effort.
I also express thanks on my own behalf and on that of our Party to all those other individuals who expressed a willingness to stand as a candidate for the Party in the upcoming general elections.
We are all grateful for the support of these individuals, today and over the years and we look forward to their active participation in the campaign as we continue our commitment to reform and modernize The Bahamas.
FNMs.
Fellow Bahamians,
Ladies and Gentlemen;
Good Afternoon:
When I arrived in Grand Bahama today, I thought it was Valentine's Day.  All I could see was red t-shirts, red blouses and red dresses, red pants, red wrist-bands, red earrings, red hats, red shoes.  I even see red hair.
Colour Red is on the move.
It's okay if Valentine's come lil' bit early.  You know why?  Because there's plenty of love in here today.  The FNM loves Grand Bahama! And, Grand Bahama loves the FNM!
Roses are red,
Violets are blue,
FNMs: Papa loves you.
FNMs:
Some 40 years after the founding of this great party, the FNM torch of progress and freedom continues to burn bright throughout The Bahamas.
Our torch burns bright because it has been constantly renewed and rekindled by the spirit and dedication of FNMs here in Grand Bahama.
Three of our party's founders — Sir Cecil Wallace-Whitfield, Maurice Moore and Warren Levarity are rooted in the soil and hearts of Grand Bahama.
So, I am pleased to be here for the first major introduction of our standard-bearers for the 2012 general election.  Next week Sunday we will have the Launch in New Providence.
Grand Bahama has been good to the FNM.  You have also been good to me, as my navel string is buried here.
In the Marco City by-election in 1990, Grand Bahama led the charge for change and renewal in a Bahamas overrun with corruption, victimization and misrule.  And, you have never looked back.
No one can ever doubt the critical role Grand Bahama has played in rescuing our country from bad governance and misrule by the PLP.
In 2007, you said no to a government riddled with scandal and massive incompetence.
In 2007, you said no to the PLP putting themselves, first, second and third, and putting the needs and interests of the Bahamian people dead last.
In 2007, you said no to the weakest, most indecisive, and do-nothing government in Bahamian history.
In 2012, I am asking Grand Bahama to help the Free National Movement to deepen and expand the programme of reform and modernization we began in 2007.
It has been a difficult and painful time for the world and The Bahamas.   In 2008, the worst economic crisis since the Great Depression hit.  It especially hit hard the people and economy of Grand Bahama.  You were already struggling with long-term problems, the after-effects of three hurricanes, and neglect by the PLP.
Clearly, the pace of economic recovery here needs to quicken and gather steam.  The issue is: which leader and which party can be trusted to get the job done and deliver, no matter how hard the task.
In the weeks ahead I will speak more to the many national and local issues of importance to Grand Bahama.  But, let me say this for now.  There is an old song that says:
For good times and bad times
I'll be on your side forever more
That's what friends are for.
Grand Bahama & Fellow FNMs:
You will forever find in Hubert Ingraham, a great friend.  The FNM will be on your side forever more.  That's what friends are for.
I have come to Grand Bahama to ask for your support to help the FNM to form the next Government of The Bahamas.  This new FNM Government will deepen our programme of reform and modernization, nationally.  Here in Grand Bahama we will advance economic recovery and genuine and sustainable economic development.
To do this, the FNM has assembled:
– A team of talent and conviction;
– A team of character and competence;
– A team of diversity and unity of purpose;
– A team of experience and new energy.
We have a dynamic team which represents some of the best of the Bahamian Imagination.  We have a team that will advance the FNM's comprehensive vision of national development.
I have also come to Grand Bahama to thank you for the considerable talent you have offered to our national team.  They include an educator, two businessmen, a journalist and an attorney.  Today, I introduce them to both Grand Bahama and the entire Bahamas.
Before doing so, I wish to make one thing plain.  With this team we fully expect to win all five seats here. Operation Colour-Red has already begun on Grand Bahama.  It will sweep from east to central to west. And yes, it will swim across the sea to Bimini.
It is now my honour and privilege to introduce to you the Free National Movement's candidates for Grand Bahama in the 2012 general election.
Peter Turnquest
The FNM candidate for East Grand Bahama is the former president of the Grand Bahama Chamber of Commerce, Mr. Peter Turnquest.  A well-known businessman, he brings a wealth of business knowledge and experience to our team.  His extensive knowledge of the economy and business environment of Grand Bahama will help us to devise policies and programmes that will aid in the revitalization of this economy.
Norris Bain
The FNM standard-bearer for Marco City is veteran educator, principal and basketball coach, Norris Bain.  Norris Bain comes to our team with extensive experience in youth development.  He has worked with young people from all walks of life and throughout this island and The Bahamas.  As a youth advocate, he has helped thousands of young Bahamians to excel both academically and in sports.  Many of his students furthered their education at the college level. We look forward to his contributions in many areas of governance in our party, but especially in youth, sports and education.
Pakeisha Parker Edgecombe
Carrying our banner in West Grand Bahama and Bimini is Pakeisha Parker Edgecombe.  Pakeisha Parker is a journalist whose professionalism has made her a favourite of the Grand Bahama community as she anchored the ZNS evening newscast.  Her coverage of the news has given her an in-depth knowledge of the life and the aspirations and needs of Grand Bahama and Bimini.  We look forward to her contribution to Team FNM.
Kwasi Thompson
It is an example of the FNM's commitment to renewal and change, that the still youthful Kwasi Thompson is now a veteran of our parliamentary team on Grand Bahama.  He returns as the candidate for Pineridge. The current MP and Deputy Speaker of the House of Assembly is an attorney.  I am pleased that this dynamic and focused young man will help to bolster our overall FNM mission here in Grand Bahama.
Neko Grant
Anchoring our team in Grand Bahama is Neko Grant.  A businessman by profession, he will carry the Party's banner in Central Grand Bahama.  He has had responsibility over the last two plus years for executing our comprehensive infrastructural investment programme throughout The Bahamas. Minister Grant has done an excellent job in advancing this billion dollar-plus programme.  We know that he will bring home Central Grand Bahama to the FNM.
Ladies and Gentlemen:
I have another important task this afternoon.   It is an expression of gratitude and tribute to those who have served the Bahamian people and the people of Grand Bahama.  They have also faithfully served the FNM.
Ken Russell, the sitting Member of Parliament for High Rock, is a dedicated and loyal FNM.  In 1997, Maurice Moore made way for Ken and now in 2012, Ken is making way for Peter Turnquest.  Ken is a hardworking Member of Parliament, and was a contributing member of my Cabinet.  I wish to thank him sincerely for his many years of service and to wish him well in his future endeavours.
Vernae Grant, the first and only female elected to the House of Assembly for Grand Bahama by the Free National Movement will not be offering this election.  I thank Vernae for her dedicated service as an MP for Eight Mile Rock and as Deputy Whip in the House of Assembly.  We look forward to her future service in other areas as we move forward. I thank Vernae also for the graciousness displayed in the selection of her successor, Pakeisa Edgecombe.
Zhivargo Laing, the sitting Member of Parliament for Marco City will carry our banner in Fort Charlotte, in Nassau, the place where he first got elected to Parliament.  I want to make it clear that Zhivargo did not ask to leave Marco City.  Admittedly, he preferred to run again in Marco City and we have no doubt that had he done so he would have won.
We are confident that Coach Bain will win Marco City, where Zhivargo has made an impressive mark.  We now want to pick up the Fort Charlotte seat which is now held by the PLP.  So we win Marco City and pickup Fort Charlotte, which puts us up one.
I thank Zhivargo for graciously acceding to our request for him to transfer to Fort Charlotte, and at the same time make way for a Coach Bain in Marco City.
I want very especially to thank the spouses, the children and the families of these parliamentarians for their support during the years of their spouses', fathers' and mother's national service.  I know well that their service would not have been possible were it not for the support their spouses and families provided to them, sometimes quietly in the background and sometimes actively and energetically in the trenches.
Ladies and Gentlemen:
The Leader of the PLP is going about saying that he's a "bridge to the future."  Well, the problem is that if you wait for him and his party to build that bridge or build anything else, you'll wait forever.  The truth is that the Opposition is a throwback to the past.  They can't take anyone to the future, much less build an airport or a straw market or provide Bahamians with a prescription drug benefit or an unemployment insurance benefit.
Just this past week the Leader of the Opposition says that he has already put together his cabinet.  But, he's going to keep most of them out of sight during the election.  When you watch some of them TV ads the PLP is running, you notice you never see certain faces?
Shane Gibson — nowhere to be found
Leslie Miller — nowhere to be found
Alfred Gray — nowhere to be found
Bradley Roberts — nowhere to be found
Vincent Peet – nowhere to be found.  He's gone but not forgotten; nor is the money in the closet or any other money forgotten.  You know they say, money is the root of all evil.
You know they say when you don't see someone, they either in Freeport or in — somewhere else!  Well, I haven't seen them here. And, I don't think they somewhere else.  You think they hiding them in PLP headquarters?
FNMs:
The PLP never tire of distorting the truth, twisting stories and telling untruths – telling lies.
During a period of time which they described as excellent economically, even booming, they let Grand Bahama's economy stumble and then collapse.
A hurricane hit this island (in 2005), caused terrible damage, caused an historic hotel to close.  Did they come out with guns blazing to your rescue?  No they ran for cover, closed their eyes and hoped that you would go away – problems and all.
They pretend that they care about you. They do not.  They only care about themselves.
I could not believe my ears the other day when Perry Christie told a reporter on ZNS television that The Bahamas "needs a government now that will not only just build roads and dig harbours, but will build optimism, build hope".   Apparently Perry Christie and the PLP believe that people find hope and take inspiration from over-crowded classrooms and inadequate operating theatres, pot-holed roads, poor water pressure, rusty water and a harbour unable to accommodate the newest cruise ships plying the world's oceans.
You remember that they talked about hope and fresh breezes from 2002 to 2007.  Never did much more than that – talk.  Now he is seeking to run from that record – a record of un-kept promises and a failure to deliver.
The PLP have short memories.  They believe that you also have short memories.  Ask Perry Christie to show you the PLP foot print on this island resulting from his one and hopefully, for all of our sake, but most especially for our children's and our country's sake, only term in office
They believe that you don't remember that during their last term in office they left no discernible footprint on this island—just as if they were never here!
When the Royal Oasis Hotel closed following the terrible hurricane in 2005 they waffled for 3 years; had no idea of what to do. They waffled, waivered and wondered while more than 1500 employees lost their jobs and never got them back.  Indeed, it would take the FNM to come to office to finish paying those Royal Oasis workers what the PLP promised them.
On our watch, during tough economic times, the Four Seasons Hotel at Emerald Bay in Exuma closed.  We acted.  Within months the hotel was sold, refurbished and reopened. That island's economy was saved.  They now receive direct jet service from the United States and Canada; a first for Exuma.  And, scores of Grand Bahamians are now employed there.  We did this in these very bad times.
The PLP said times were good under them, "unprecedentedly" good.  Christie said that he presided over "untold numbers" of investors to The Bahamas.  They were "untold" alright because no one can tell of them now.  What they thought they did for Grand Bahama has either vanished or floundered.
You check it out! Pegasus, does anyone remember Pegasus?  Just like its mythical name, it has vanished in that foul wind that blew them in.  Ginn, does anyone remember Ginn? It is still trying to catch itself.  Remember how Christie went on the corner of Midshipman and Seahorse Road just days before election talking and having ground breaking for a new hotel?  What you see there now? Just a pile of dirt!
Have a look at BORCO/VOPAC since our return to office.  Investment and expansion and job creation – and more on the horizon.
We are not like them.  We are different! Distinctly different!  The Free National Movement planned and built the Mary Patricia Junior High School since returning to office.  It was the first school built on this island since we built schools here during the 1990s – the Hugh Campbell and Maurice Moore primary schools, the Jack Hayward and St. Georges high schools.
The PLP claims they care, but we had to return to office to implement the plans we left in place in 2002 to upgrade and expand critical facilities at the Rand Memorial Hospital.  I guess they don't know or think that Grand Bahama needs adequate health care near their homes and work places.  Tune in on Wednesday and see the wonderful, modern state of the art operating theatres and accident and emergency facilities the FNM put in the Rand for Grand Bahama, Abaco and Bimini.
The PLP and others opposed to us claim that we invest in things.  They profess that they will invest in people.
They need to tell us who they believe study in schools we build.  Who do they believe travel on roads we construct?  And who do they believe are working on Government construction projects all over this island?
We built a multimillion office complex in Grand Bahama.
We built critical seawalls for the island's protection from hurricanes.
We put in new docking facilities in East Grand Bahama.
And, in conjunction with the Grand Bahama Port Authority we built a new craft centre.
Bahamian public officers will work in the Government administrative complex.
Well they may not know but we know that:
Bahamian lives and Bahamian homes and businesses will be protected by improved sea-defenses.
Bahamians will enjoy easier shipping access because of the new port facilities in East Grand Bahama.
Bahamian children are sitting in new, modern classrooms at the Sister Mary Patricia School.
And, Bahamians will benefit from improved emergency medical care because of the new A&E Unit and the new state-of-the-art operating theatres as we want Bahamians to feel comfortable seeking medical attention from modern, well equipped medical facilities.
And we want Bahamians to have safety-nets, real safety-nets that catch you when you fall.
That's why we implemented an unemployment benefit under the NIB Programme.
That is also why we introduced the Prescription Drug benefit.  We do not expect that uninsured Bahamians will be forced to choose between buying food or buying medicine; paying the light bill or buying medicine; keeping the water running or buying medicine – for their high blood pressure, diabetes, heart problems, asthma.
That is how the FNM go; we don't talk; we act; we deliver.
Since 2008 the world has been suffering under a terrible economic cloud.  We have not stood by wringing our hands.
Instead, we have hired almost 1,000 Grand Bahamians in the Government's 52-week programme.
We enabled hundreds of Grand Bahamians to get their life-saving chronic illness medication under the Prescription Drug Programme.
We have kept the Isle of Capri open these many years with millions of dollars in subsidy.
We have improved airlifts and cruise arrivals to Grand Bahama.
Indeed, today, it is FNM successes, left in place when we were put out of office in 2002, that today are carrying this islands economy:
The Grand Lucaya;
the Freeport Container Port;
the Grand Bahama Ship Yard;
Bradford Marine;
Polymer's International; etc.
Under our watch Ross University has come benefiting many through rentals, employment and consumer spending.  WE HAVE A DISCERNABLE FOOTPRINT IN GRAND BAHAMA AND THAT IS WHY GRAND BAHAMA IS FNM COUNTRY!
I WILL HAVE MORE TO SAY IN THE COMING WEEKS AND MONTHS ABOUT OUR EFFORTS HERE IN GRAND BAHAMA IN THESE VERY DIFFICULT ECONOMIC TIMES.
They talk and talk and talk.  The dream and they imagine.  What they do not do is deliver.  They don't act.
If talking, dreaming and imagining created jobs, modernized laws and installed state-of-the-art infrastructure – then I suppose they could find something which they might have accomplished.
For too long the Leader of the Opposition and his colleagues in the PLP have traded on having smooth tongues.  You must tell them clearly and tell them loudly that smooth talking will not cut it.  Ridiculously, strung together adjectives mean nothing.
FNMs
I want to acknowledge that our Party knows that your economy continues to limp.  We are working daily to soften the impact for as many persons and families as possible.
We are acting to ensure that we are in the best possible position to benefit from the economic recovery when it occurs.
We are acting to remove impediments to business.  This has included our continued liaison with the Port Authority, encouraging and supporting efforts that will lead to a resolution of the problems which have afflicted the company since the sad passing of Edward St. George.
I am optimistic the worse for Grand Bahama is behind us.
FNMs,
I want to say a few words to you on a matter that has become a concern for some businesses in Freeport.  The matter concerns certain procedures required by Bahamas Customs in Freeport.
Before the FNM came to office in 1992 the vast majority of licencees in Freeport were foreign.  Also, in those pre-FNM days the Prime Minister had to sign off on Bahamians given licences to operate businesses in Freeport.  We discontinued that within days of coming to office in August, 1992.
Since that time, The Bahamas government is not involved at all in the issuance of licences to Bahamians by the Port Authority.
Nowadays the majority of licencees in Freeport are Bahamians – big and small operators.  As a consequence, the local bonded sales economy in Freeport has increased substantially.
The efforts of the Department of Customs to ensure that it collects revenue due and payable to the public purse and to further provide some reasonable certainly as to the procedures to be followed by licensees in making those payments led to the production of the Guide to Customs Duty Exemptions and Procedures in Freeport, Grand Bahama Island.
This Guide has led to various challenges over the years leaving Customs to having to find other ways to ensure that legitimate revenue is collected.
An example of this is Customs new requirement for licencees to produce C14A declarations for all of their bonded purchases in 2011 as a condition to the licencee receiving their annual Over-the-Counter Bond letter from Customs for  purchase of bonded goods in 2012.
This Customs requirement  has led to complaints from some  businesses regarding their ability to do business .
We want to facilitate business here in Freeport and throughout The Bahamas.
As a consequence of these complaints the recent requirement will be reviewed.  I advise that I will move to establish a committee similar to the one that produced the first Customs Exemptions and Procedures Guide in Freeport and will charge that committee to review the guide and make recommendations for its amendment taking into the account the current realities that prevail in Freeport.
FNMs,
I admit that we have had disappointments here in Grand Bahama since 2007.
GINN went bust.  Harcourt didn't redevelop Royal Oasis. The Cruise Port didn't come off in William Town.
Statoil sold BORCO to Buck-Eye and expansion of facilities and storage capacity is ongoing, but they haven't proceeded with the intended relocation of some residents and the public school in Pinder's Point.  And, the Port Authority became embroiled in what at times looked like a never-ending dispute.
We now face the expiration of two critical benefits under the Hawksbill Creek Agreement – on property tax and on business licences in Freeport in 2015.  Some have suggested that dealing with this matter is urgent – now.
Freeport must not forget that the last time these benefit ended was on the PLP watch in 1990.  And what did they do about it?  NOTHING!
It was left to the FNM to come to office two years after their expiration for them to be extended.
Freeport cannot trust the PLP with its future upon the expiration of those benefits in 3 years' time.
FNMs
The PLP, having paid some foreign agents to develop slick TV ads are setting about to try and trick people into believing that they are ready to govern.  Do they do this by providing concrete examples of an action plan.  Of course not.  They are busy assigning posts.
Don't mind those pretend TV ads.  They're hiding the real PLP cabinet-in-waiting from you.  Bahamians already know the usual suspects who are already measuring the drapes for their offices.
We know the people who are dreaming about, and can't wait to get back to raid the cookie jar.  There are a couple of new one's too, who can't wait to get in and start the wheeling and dealing.
It's amazing how some people, who will sell you out to foreigners without batting an eye, will tell you that they looking after your interests.  Don't worry, we'll have more to say about this after the bell is rung.
I would never be so presumptuous as to say I already have my cabinet chosen.  I assure the Bahamian people that I respect and will await their judgement before I go about assigning cabinet posts.
Anyway, I have news for Christie and for the rest of them.  To get to the Cabinet you have to win the election and in order to win, you need the votes of the people. And the people threw them out of office after one term.  And, the people will stop them and prevent their returning to plundering and conniving again.
FNMs:
When you first become a parent, you start thinking in decades.   But, when you become a Papa, you start thinking in generations.
So, this election is about the quality of leadership that will move our country forward.  It is about the results-oriented, compassionate, honest and accountable government which has been the hallmark of the FNM.
The PLP was a massive failure during their single disastrous term from 2002 to 2007.  And, Perry Christie is a failed leader.
Five years later, because they have no record and a weak leader, they will offer you all kinds of plans.  Mind you, these are, in the main, the same people who never fulfilled their plans last time.  They even trying to say, that the FNM is fulfilling their plans.  Child please!
Desperate to get back to the cookie jar, they're going to flood the TV and put up all kinds of posters offering you slogans.  Well, that won't work, because we're going to remind the Bahamian people that it is the FNM that puts you first every day and all the time.  We have a record.  They just have plenty talk.
This election is about the party that can deliver on its promises to build a better future for all Bahamians.
The future won't build itself.  The future won't happen just because someone sees things in their minds and writes down plans on a piece of paper.
The future requires leadership.  It requires hard work and job performance over just performing for the crowds and the cameras.
The FNM is the party of change and renewal.  Colour Red is on the move.   Now, FNMs it's time to get to work!
______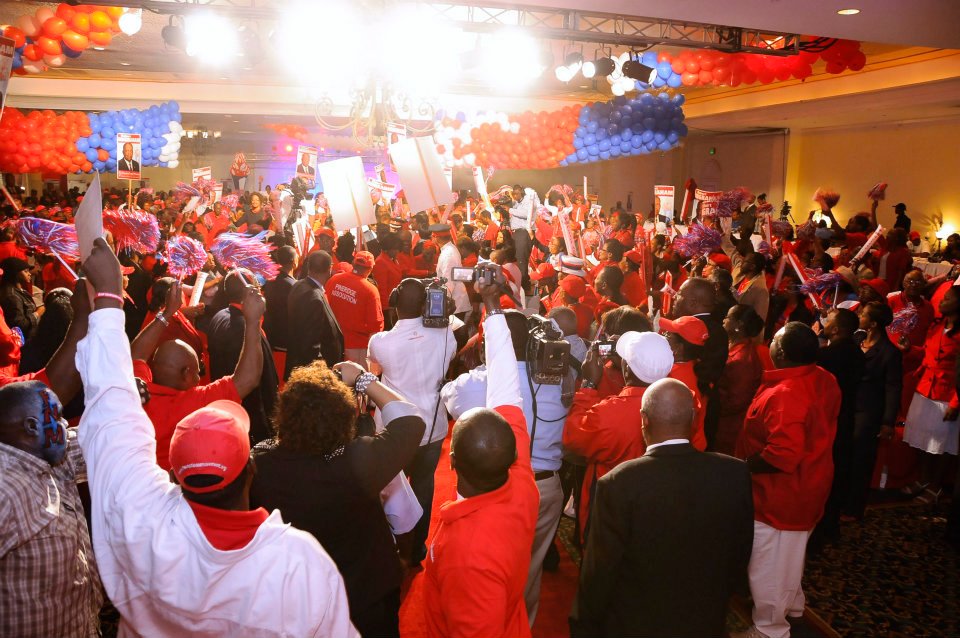 West Grand Bahama Gone FNM With Pakesia!! from FNM Restoring Your Trust on Vimeo.