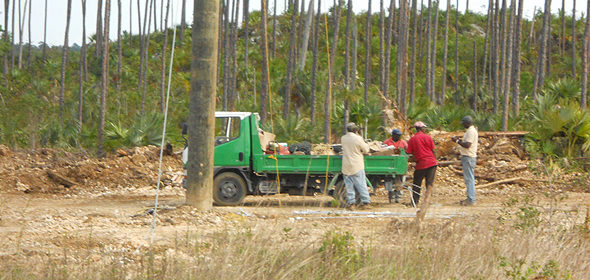 Wilson City, Abaco — Bahamas Press last week paid a visit to the heartbroken people of Abaco who have seen the uncaring FNM government wreck their plans in every direction they turn.
Firstly, the FNM government decided to build a $100 million power plant in Wilson City. They brought in foreign workers to build the facility while Bahamians foot the bill. And after completing the building, some jackass forgot in order to send the power to the consumers. Therefore a second contract had to be issued to pull power lines.
Our visit last week however presents another 'vicked' scenario happening on the ground against the people of Abaco.
BP went deep into the bushes for this one, and what we uncovered amounts to another ungodly, vicked, unchristian backside rape against the people of Abaco by the FNM government.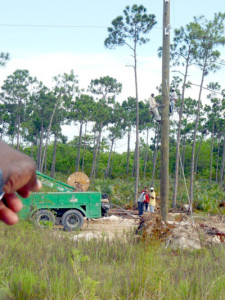 Bahamas Press has learnt and can verify by photos presented here, the minister with responsibility for immigration, has issues scores of permits to Jamaican lines men to pull the power lines from the Wilson City power facility to the Abaco community. NOW HOW LOW COULD YINNER GO?
The FNM government in its clear national policies doesn't give a RAT'S ASS about Bahamians! On top of all this residents of Abaco are left reeling with massive long lengthy power cuts, which go for some 20 hours a day at times.
In a statement on the matter last week the PLP noted:
Residents are complaining of appliances and other electrical items been damaged or destroyed by the many power surges etc. Abacoians demand to know, when will this madness end?  Prime Minister Hubert Ingraham and MP for North Abaco has remained silenced since his bombast promised to get to the bottom of why BEC Abaco run out of oil and whilst the people of Abaco suffers and the dog days of summer at our doors.
Yet despite that statement on behalf of the people of Abaco, the WUTLESS FNM MEDIA cannot find ink to print on the sleeping FNM government on the matter. But they too have no Damn SHAME!
We wonder what the DNA has to say about this? Yinner must remember now, the former minister for immigration was Branville McCartney, and yet he too like his PAPA has nothing to say about the uncouth, ungodly, VICKED, vindictive, nasty-lowdown treatment the DAMN FNM gives to Bahamians over foreigners; and we know why.
All we could say is this; Lord please deliver us from these VICKED, Damnable UNCIRCUMCISED Philistines in the FNM Government.
Abaco, VOTE THEM OUT!