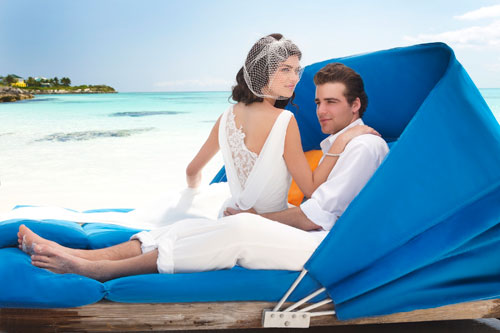 By Kendea Smith
Nassau, Bahamas – With the Ministry of Tourism's 16 Islands, 16 Weddings, One Priceless Day promotion only a week away, Ministry of Tourism officials have declared that January is "Romance Month".
On February 14, 2014, the ministry launched the promotion that would see 16 couples get married simultaneously at 4:00 p.m. (16:00) on January 16.
The promotion got widespread attention as over 3,000 registered for a chance to tie the knot in The Bahamas.
Deputy Director General of Tourism Ellison Thompson said declaring January "Romance Month" is all in a bid for The Bahamas to claim its spot as the number one romance destination.
"What is so important is the fact that with this promotion we were able to feature a multitude of destinations that The Bahamas has to offer and indeed we are going to have 16 different weddings in 16 islands and so we have a couple of things going on here. Strategically, we are pointing out to travel and trade persons that The Bahamas is not just one island, we are a number of islands and that each island is completely different," he said.
Mr. Thompson noted that The Bahamas has slipped from its position as the number one romance destination. However, he said the country is slowly climbing up the ladder once again.
"We are actually going to go up this ladder because we see how lucrative it is especially for the Family Islands. When you have a couple of weddings in an island for a month that is really good for the resorts," he said.
The Ministry of Tourism also plans to carry the promotion to Canada this year.
"Once you have got the jumpstart of these particular weddings then we are going to be following up with all sorts of different initiatives. We brought a number of partners into this promotion as well and so we are going to be doing follow up work with their clientele as well," Mr. Thompson said.
"There is a lot going on in the romance market and it is one of those markets that is recession-proof. People always want to get married and always want to get engaged, they always want to have these couple getaways and so we would like to capitalize on that."
Director of Romance Freda Malcolm said officials are preparing for 64 people to attend the various weddings and all of the couples are getting more and more excited.
"We have had such tremendous response. Even one of the the couples has decided to embark on a pre-trip," she said.
"Being exactly one week away, all cylinders are on fire. We have been ramping up our efforts in particular with vendors. The cakes are ready. I know that the couples will be bringing the rings with them. They have been given their wedding gowns and tuxedos. The hoteliers are ready to greet their special guests at the airport, escort them to the venues where the weddings will take place and we also have a number of Ministry of Tourism staff who will be accompanying each couple to ensure that they do get married at exactly 4:00 p.m. on the 16th. Everyone is simply excited."
VAT PSA 14 from King Of Hearts Media on Vimeo.
PSA 18 from King Of Hearts Media on Vimeo.