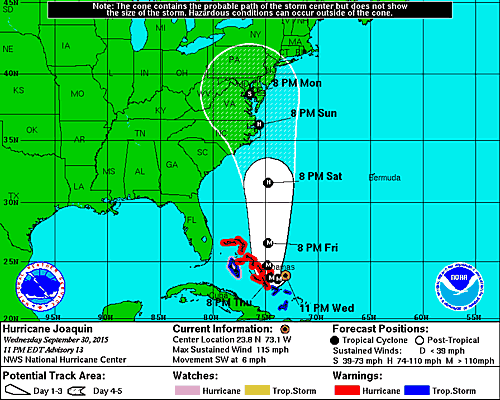 ALERT #8 ON HURRICANE JOAQUIN ISSUED BY THE BAHAMAS DEPARTMENT OF METEOROLOGY THURSDAY 1ST OCTOBER, 2015 AT 12AM EDT.
…JOAQUIN BECOMES A CATEGORY 3 HURRICANE AS IT MOVES TOWARDS THE CENTRAL BAHAMAS…
A HURRICANE WARNING REMAINS IN EFFECT FOR THE NORTHWEST AND CENTRAL BAHAMAS WHICH INCLUDES THE ISLANDS OF THE ABACOS, BERRY ISLANDS, ELEUTHERA, GRAND BAHAMA, NEW PROVIDENCE. LONG ISLAND, EXUMA AND ITS CAYS, CAT ISLAND, RUM CAY AND SAN SALVADOR.
A HURRICANE WARNING MEANS THAT HURRICANE CONDITIONS ARE EXPECTED SOMEWHERE WITHIN THE WARNING AREA WITHIN 36 HOURS. RESIDENTS SHOULD RUSH TO COMPLETE PREPARATION TO PROTECT LIFE AND PROPERTY.
A HURRICANE WATCH IS IN EFFECT FOR BIMINI AND ANDROS.
A HURRICANE WATCH MEANS THAT HURRICANE CONDTIONS COULD BE EXPERIENCED IN THE MENTIONED AREA WITHIN THE NEXT 36 TO 48 HOURS.
A TROPICAL STORM WARNING REMAINS IN EFFECT FOR THE SOUTHEAST BAHAMAS WHICH INCLUDES THE ISLANDS OF ACKLINS, CROOKED ISLAND, LONG CAY, THE INAGUAS, MAYAGUANA, AND RAGGED ISLAND BUT EXCLUDING THE TURKS AND CAICOS ISLANDS.
TROPICAL STORM WARNING MEANS THAT TROPICAL STORM CONDITION CAN BE EXPERIENCED WITHIN THE MENTIONED AREAS WITHIN 36 TO 48 HOURS.
AT 11 PM EDT THE CENTER OF HURRICANE JOAQUIN WAS LOCATED NEAR LATITUDE 23.8 DEGREES NORTH AND LONGITUDE 73.1 DEGREES WEST OR ABOUT 90 MILES EAST OF SAN SALVADOR, ABOUT 108 MILES EAST OF RUM CAY, 217 MILES SOUTHEAST OF GOVERNOR'S HARBOUR ELEUTHERA AND ABOUT 277 MILES SOUTHEAST OF NEW PROVIDENCE.
HURRICANE JOAQUIN IS MOVING TOWARD THE SOUTHWEST NEAR 6 MPH AND THIS GENERAL MOTION IS EXPECTED TO CONTINUE OVER THE NEXT 24 HOURS. A TURN TOWARD THE NORTHWEST AND NORTH IS FORECAST THURSDAY NIGHT OR FRIDAY. THE CENTER OF JOAQUIN IS EXPECTED TO MOVE NEAR OR OVER PORTIONS OF THE CENTRAL BAHAMAS OVERNIGHT AND THURSDAY, AND BE NEAR OR OVER PORT
IONS OF THE NORTHWEST BAHAMAS THURSDAY NIGHT OR FRIDAY.
MAXIMUM SUSTAINED WINDS HAVE INCREASED TO NEAR 115 MILES PER HOUR WITH HIGHER GUSTS. JOAQUIN IS A CATEGORY 3 HURRICANE. ADDITIONAL STRENGTHENING IS FORECAST DURING THE NEXT DAY OR SO. SOME FLUCTUATIONS IN INTENSITY ARE POSSIBLE THURSDAY NIGHT AND FRIDAY.
HEAVY RAINFALL COULD RESULT IN LIFE THREATENING FLASH FLOODS ALSO LARGE SWELLS ARE LIKELY TO CAUSE LIFE-THREATENING SURF AND DANGEROUS RIP CURRENT CONDITIONS.
HURRICANE FORCE WINDS EXTEND OUTWARD UP TO 35 MILES FROM THE CENTER AND TROPICAL STORM FORCE WINDS EXTEND OUTWARD UP TO 140 MILES FROM THE CENTER.
AGAIN, RESIDENTS IN THE WARNING AREAS SHOULD HAVE COMPLETED PREPARATION FOR THE IMPACT OF JOAQUIN WHICH INCLUDES SEVERE FLOODING.
RESIDENTS IN THE TROPICAL STORM AREAS SHOULD CONTINUE TO MONITOR THE PROGRESS OF THIS HURRICANE AND BE PREPARED TO TAKE QUICK ACTION IF NECESSARY.
SMALL CRAFT OPERATORS THROUGHOUT THE BAHAMAS SHOULD REMAIN IN PORT AS LARGE SWELLS AND BATTERING WAVES WILL AFFECT THE BAHAMAS DURING THE NEXT FEW DAYS.
THE NEXT ALERT ON HURRICANE JOAQUIN WILL BE ISSUED AT 3AM EDT.
ISSUED BY: – GREGORY D THOMPSON (DUTY FORECASTER)