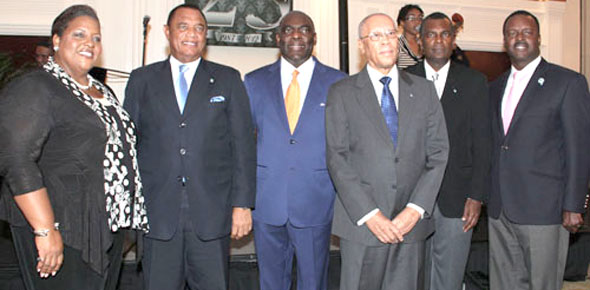 NASSAU, The Bahamas – Prime Minister the Rt. Hon. Perry Christie praised the success of Wendall Jones, publisher of The Bahama Journal as a Bahamian who came from humble beginnings to achieve greatness in the country.The Prime Minister bestowed the accolades upon Mr. Jones during The Bahama Journal Silver Jubilee Anniversary celebration held Wednesday, September 12, 2012 at the British Colonial Hilton.
Present amongst the list of "Who's Who" in the mass communications and journalism profession were His Excellency Sir Arthur Foulkes, Governor General, His Excellency Ed Bethel, Bahamas High Commissioner to London and their wives; Mike Smith, former High Commissioner to Canada, Cabinet Ministers, Members of Parliament, and members from the business sector.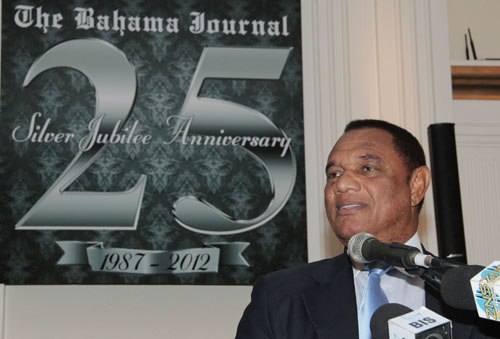 On September 12, 1987, Mr. Jones along with two of his friends Lionel Dorsett (deceased), and Mike Smith launched The Bahama Journal. They visited then lawyer Perry Christie to form and register the limited company, Miliwen – Mike, Lionel and Wendall.
Prime Minister Christie deemed it fitting to participate in the Silver Jubilee celebrations, stating that they were young men who took on two major institutional newspapers in the country and became a success.
At first, it was said that they would not succeed because they did not have the financial backing to start a newspaper but they were committed, strong and knew that it was what they wanted to do.
The Prime Minister said Mr. Jones' background is that of a journey of achievement, which many Bahamians travelled despite humble beginnings.
"His journey of 25 years is something special to the country," he said, recognising that there are good and honest people in the country, along the political divide, who have overcome the odds.
The Prime Minister then thanked Mr. Jones for being an example to others and wished him "great success" in his endeavours.