DAS Gonzalez and U.S. Chargé d'Affaires a.i. Lisa Johnson visit the Royal Bahamas Police Force Marine Support Services Unit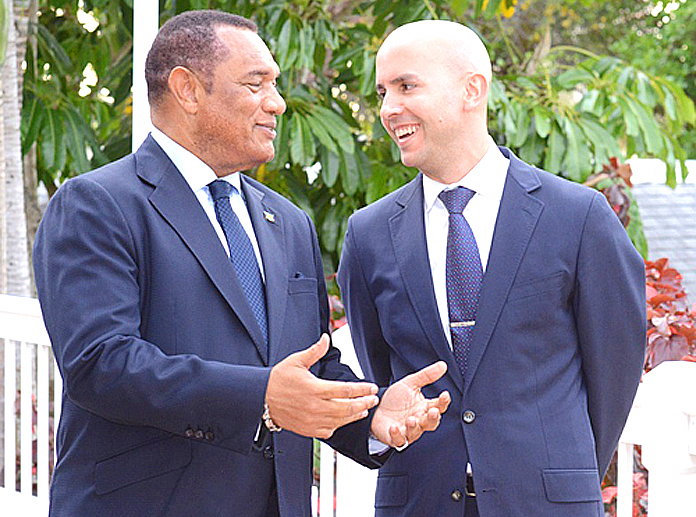 Nassau, Bahamas – Deputy Assistant Secretary of State for Western Hemisphere Affairs Juan Gonzalez made an official two-day visit to The Bahamas April 18-19, 2016. His trip served as an opportunity to meet with senior government officials and highlight the U.S. commitment to The Bahamas and the region.
During the visit, U.S. Chargé d'Affaires a.i. Lisa Johnson hosted a welcome reception in honor of DAS Gonzalez at the U.S. Ambassador's Residence. Prime Minister of The Bahamas, the Rt. Hon. Perry G. Christie, senior government officials and representatives from the diplomatic corps, law enforcement, business and energy sectors, and civil society were among the invited guests. During his remarks DAS Gonzalez highlighted the strong bilateral relationship shared between the United States and The Bahamas.
DAS Gonzalez held meetings with Deputy Prime Minister and Minister of Works Philip Davis, Minister of Foreign Affairs and Immigration Frederick Mitchell, and Minister of the Environment and Housing Kenred Dorsett. DAS Gonzalez also toured the Bahamas Power and Light (BPL) generating station and met with its management team. During those meetings, he pledged the United States' commitment to work with the Bahamian government to achieve its renewable energy goals. He also highlighted the second annual Caribbean Energy Security Summit to be hosted by Vice President Biden in Washington, D.C. on May 4th which seeks to build on last year's event, which helped create several renewable energy sector deals in the region.
While in Nassau, DAS Gonzalez paid a courtesy call on the Commander of the Royal Bahamas Defence Force (Acting) Tellis Bethel at the Coral Harbour base to discuss issues of mutual interest. During the meeting, Captain Bethel presented DAS Gonzalez with a plaque to commemorate the strong ties shared between both countries. DAS Gonzalez also visited the Royal Bahamas Police Force (RBPF) Marine Support Services Unit to participate in a harbor tour on one of four interceptor vessels funded by the U.S. Embassy's International Narcotics and Law Enforcement Affairs (INL) Section. The vessels were donated in an effort to increase the RBPF's operational interdiction capacity as part of Operation Bahamas, Turks and Caicos (OPBAT). DAS Gonzalez was joined at the Marine Unit by Police Commissioner Ellison Greenslade and other RBPF officials.
DAS Gonzalez has responsibility for U.S. diplomatic engagement and policy implementation in Central America and the Caribbean. He was previously at the White House, most recently as Special Advisor to Vice President Joe Biden from 2013-2015, where he advised and represented the Vice President on all policy matters related to the Western Hemisphere.