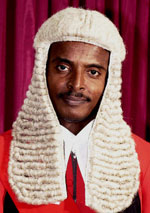 Nassau, Bahamas – Bahamas Press is reporting another mishap in the Supreme Court and this time it has nothing to do with criminals. [Well, maybe].
We are advised for the past 12-days Senior Justice in the Supreme Court, Jon Isaacs, has been denied access to the world via his office telephones.
Sources in downtown Bank Lane tell us, many requests have been made to 'Careless and Wutless' to have the problem rectified, and although repeated attempts by the Senior Justice to have the problem rectified, nothing is being done to fix the problem.
A number of calls by members of the bar to Isaacs have gone unanswered, and in some cases, have resulted of a serious miscarriage of Justice in the Bahamas.
BP warned the Ingraham administration along with thousands in protest, to do not sell the national patrimony to the wutless regional telephone operator. As the days passes with the Senior Justice not having access to the world from his office, the courts are getting worse! And while this goes on in the Supreme Court, we here at BP are the winners of some UK based lottery scam. The scam texts are sent to our cell phone everyday.
Last week, we won over 42 million pounds from text lottery crooks via BTC's new Cable and Wireless network. Since the sale of the telephone company, a host of disruptions had occurred and scam artists in the UK have attained the private numbers of locals. THIS IS INCREDIBLE!
Additionally, calls made to 911 are going unanswered. The emergency line has compounded issues in need of urgent assistance. BTC has made a request to URCA to allow a 0.35¢ charge to be applied to locals for the use of its operator services and service calls into the BTC network. And while the cost to do business with BTC appears to be increasing, its service quality appears to be falling apart by the hour.
BTC please urgently fix the telephone lines at the offices of Senior Justice Jon Isaacs. It has been 12 days now! And hurry up before Jon holds one a 'yinner' for contempt and another criminal gets bail.
WE CAN DO BETTER!