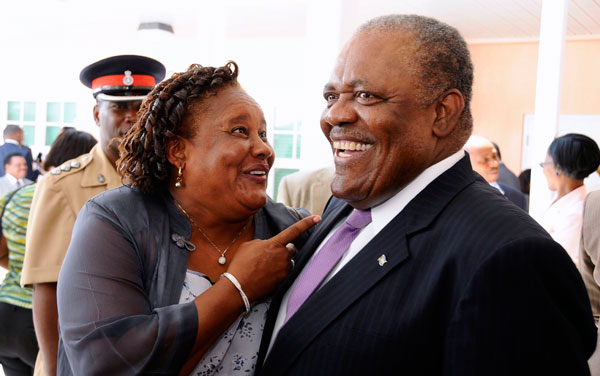 Nassau, Bahamas — For the second time in almost ten years a leader has cried shame on the Bahamian people.
Yesterday as members of the National Trade Union Congress [NTUC] made their way in a March on Parliament yesterday, President Jennifer Isaacs-Dotson expressed her disappointment  at the state of labour relations in the country. Wearing Green T-shirts along with her members, Dotson castigated the PLP and FNM governments for failing labour in the country and then had some words for the people of the Bahamas.
The NTUC president went as far as following the footsteps of PAPA almost 10 years ago as she cried shame on the Bahamians people for not showing up on the march. "I cry shame on the Bahamian people who should have turned up here today," she said as she made comments with the media.
Bahamas Press was not moved into shock after hearing the comments of Dotson and here's why. Only the criminally-minded would expect people to follow them to Bay Street all to 'cuss' 'DA PEOPLE' of this country when they reach the doors of Parliament. These are the actions of a purebreded 'JUNGALISS'!
What could be in the head of Dotson to echo the words of an ABSOLUTE MONGREL and then expect us to follow her? Bahamians are not stupid! Where was the NTUC leadership when BTC workers was being threatened on the job and some fired for protesting at the beginning of the sale of the national patrimony? When BP was downtown and called a "Criminal" by the "dutty TOILET PAPER" the NTUC was quiet? Where was SELLOUT Bernard Evans yesterday during the march?
Where were the workers of BTC, The Hotel Union,  and the thousands of Government workers? Are they not all branch members of the NTUC? Yet, Dotson want to chastise us the Bahamian people as she and Rodney Moncur March on Parliament to praise PAPA for his crime bills? PLEASE!
If yinner want GO GREEN and be Drag Queens then that's yinner damn business! Tell Bernard Evans you cry shame on him! Tell the hotel union president to speak up for her members, who lost their job at Our Lucaya in Grand Bahama last week! CRY SHAME ON HER! Tell John Pinder get his members out of them government offices and if he cannot do that CRY SHAME ON HIM!
You cannot want to cuss us and expect us to follow you? It don't work like that!
Jennifer Isaacs-Dotson owes the Bahamian people an APOLOGY! And should stop parading down Bay Street all to display her JUNGALISS WAYS!