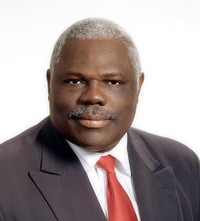 CONFIRMED REPORTS REACHING BAHAMAS PRESS SUGGEST KENNETH RUSSELL HAS BEEN FIRED FROM THE CABINET OF THE BAHAMAS!
BP can confirm an emergency meeting at the Department of Housing has just concluded during which officials in the department have been advised of the PM's decision to fire Kenneth Russell from the Cabinet.
In an interview with BP's Senior Editor Alexander James, Russell, who was first elected to the House in 1997 and also served as Minister of Public Works from 2001 to 2002,  said, "The FNM is my Party and no one or two, three or four persons will push me out. I have dedicated my life to the FNM and I will run."
Prime Minister Hubert Ingraham is seeking to present to the FNM Council new names of candidates which will replace Kenneth Russell and Neko Grant as standard-bearers for the FNM in the upcoming general elections.
Eye witnesses are alleging that Russell was escorted out of his Ministerial office by the Royal Bahamas Police.