Prime Minister Hubert Ingraham stops to chat with axed Cabinet Minister Kenneth Russell in the Parliament. Russell could leave the FNM as he is set to support his sister-in-law in the DNA.
A Breaking BP Exclusive <<< Kenneth Russell could jump ship and support the DNA
Freeport, Grand Bahama — In an exclusive interview late tonight with Bahamas Press Senior Editor, current High Rock MP, Kenneth Russell, flatly denied a Punch article that ran this morning which stated that he "…flew from Freeport to help Pakeisha Parker campaign" in Bimini for the upcoming general elections.
Setting the record straight, Russell told BP, "The thought of me assisting Mrs. Parker is only in the head of someone's imagination.
"Yes, I did go to the renaming of the Bimini All age School because I wanted to show my respects to my teacher, Louise McDonald, for whom it was renamed. I was born on that island and Ms. McDonald was my teacher. I did not go to Bimini to present any candidate for the FNM."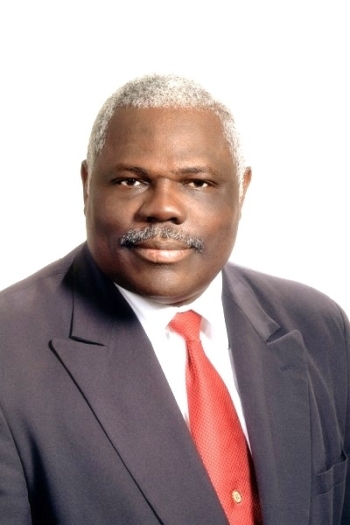 The High Rock MP added, "In fact, I was not invited nor have I been invited to join any candidate of the Free National Movement in the upcoming elections. I am now in private practise. I am not running and therefore I will not be supporting any of the Party's candidates for the area."
When asked whether he will be going with any other political party or will remain as an FNM, Mr. Russell had this to say, "I will have more to say when I return to Parliament this week. I will add, however, that my sister-in-law, Mrs. Ferline Bridgewater-Thomas, is expected to be named as the DNA's candidate for East End Grand Bahama. She is like a sister to me, and there is no doubt she will get my full support in the upcoming General Elections."
Thomas will be named in the DNA's final slate of candidates for Grand Bahama this week. She is the sister of former PLP Pineridge MP, Pleasent Bridgewater.
BP asked Mr. Russell what he thinks will be the fate of the FNM on Grand Bahama? He responded, "The base is here, however, the base has been cursed by the lack of opportunity for Grand Bahamians on the island. This is no doubt the reason for so many shifts in candidates, particularly the ones on Grand Bahama, whose chances of winning on the island were made slim."
We can also report that the son of another sitting FNM Member of Parliament is expected to run for the DNA in a seat on Grand Bahama.
We report yinner decide…