Four dead in Haiti and one in Dominican Republic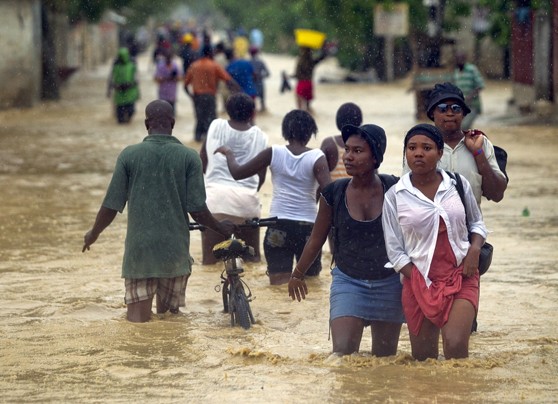 By Associated Press
HAVANA — Tropical Storm Isaac pushed over Cuba on Saturday after sweeping across Haiti's southern peninsula, where it caused flooding and at least four deaths, adding to the misery of a poor nation still trying to recover from the terrible 2010 earthquake.
Isaac's center made landfall just before midday near the far-eastern tip of Cuba, downing trees and power lines. In the picturesque city of Baracoa, the storm surge flooded the seaside Malecon and a block inland, destroying two homes.
Forecasters said Isaac poses a threat to Florida Monday and Tuesday, just as the Republican Party gathers for its national convention in Tampa. It could eventually hit the Florida Panhandle as a Category 2 hurricane with winds of nearly 100 mph (160 kph).
Florida Gov. Rick Scott declared a state of emergency, officials urged vacationers to leave the Florida Keys and the U.S. National Hurricane Center said a hurricane warning was in effect there, as well as for the west coast of Florida from Bonita Beach south to Ocean Reef and for Florida Bay.
At least four people were reported dead in Haiti including a 10-year-old girl who had a wall fall on her, according to the country's Civil Protection Office. There were no immediate details on how the others died.
The government also reported two injuries; "considerable damage" to agriculture and homes; nearly 8,000 people who were evacuated from their houses or quake shelters; and more than 4,000 who were taken to temporary shelters.
Many, however, stayed and suffered.
The Grise River overflowed north of Port-au-Prince, sending chocolate-brown water spilling through the sprawling shantytown of Cite Soleil, where many people grabbed what possessions they could and carried them on their heads, wading through waist-deep water.
"From last night, we're in misery," said Cite Soleil resident Jean-Gymar Joseph. "All our children are sleeping in the mud, in the rain."
Scores of tents in quake settlements collapsed. In a roadside lot in Cite Soleil, the dozens of tents and shelters provided by international groups after the earthquake were tossed to the ground like pieces of crumpled paper, and the occupants tried to save their belongings.
"They promised they were going to build us a sturdy home and it never came," Jean-Robert Sauviren, an unemployed 63-year-old father of six said as he stood barefoot in the water and held aloft his arms. "Maybe we don't deserve anything."
Ricknel Charles, a 42-year-old pastor, sheltered some 50 displaced people in his church.
"This is the only thing I can do for them: give them a place to sleep," Charles said.
About 300 homes in Cite Soleil lost their roofs or were flooded three feet (one meter) deep, according to Rachel Brumbaugh, operation manager for the U.S. nonprofit group World Vision.
Doctors Without Borders said it anticipated a spike in cholera cases due to flooding and it was preparing to receive more patients.
The international airport reopened by the afternoon but there was still extensive flooding throughout Port-au-Prince after 24 hours of steady rain.