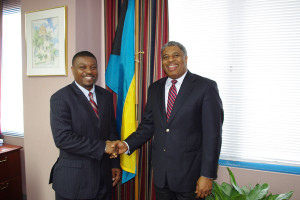 The Bahamas has moved in earnest to become a member of the World Trade Organisation (WTO).
The first working party meeting for its accession takes place September 14 in Geneva at the WTO headquarters.
The Bahamas' team is led by Minister of State in the Ministry of Finance, Zhivargo Laing, with distinguished chartered accountant Raymond Winder as the chief negotiator.
"The Bahamas has assembled what we believe to be a very capable negotiating team," Mr Laing observed.
"The WTO itself was impressed that we have chosen a private sector person to lead our negotiations."
Minister Laing and Mr Winder will be supported by the Director of Legal Affairs, the Governor of the Central Bank, the Director of Investments, and the Legal Advisor in the Ministry of Finance.
They in turn will be supported by the technical staff of the Ministry of Finance headed by the Director of Economics.
The Bahamas' team also includes representatives from the Chamber of Commerce and most other private sector organisations.
WTO began operation in 1995. It is the only organisation responsible for monitoring and establishing rules for trading in the international community. It comprises 153 members, representing more than 97 percent of total world trade. There are 30 observers, most seeking membership.
The Bahamas is the only CARICOM country not a member. It did not join earlier because "primarily it thought that its economic and fiscal regime might have been too significantly impacted by having to comply with the rules at the time," Mr Laing explained.
The Bahamas became observer members in 2000 and applied for full membership the following year.
"Our application languished to 2007 when it was reactivated," said Mr Laing. "That required The Bahamas to submit a memorandum of trade regimes which is a comprehensive description of the rules, procedures and protocols with respect to trading in The Bahamas.
"Once we did that the WTO established a working party – a committee of member countries of the world that are essentially responsible for marshalling The Bahamas' accession application."
Mr Winder noted that the process is two-tiered involving the government and the private sector.
"There will be some changes to some domestic laws in terms of how we go about doing business in our country," he said.
"The real issue is to what extent those changes will cause considerable amount of challenges for us and to what extent we can negotiate the possibility of not having to change some of them.
"There are some baseline rules and protocols of WTO and hopefully we would identify the gaps between where we are now as a country and where we need to be from a minimum point of view.
"We would like to become a part of WTO very quickly. That is going to require a lot of work. The government has demonstrated its willingness in this process."
Mr Winder accepted that WTO membership will mean "some changes for the government in terms of having to provide clear rules…regarding how we do business in our country.
"It is going to be a wonderful thing for all of us. Those in the private sector will be happy to know that as we go forward we will be able to rely on rules and legislation that are from a world standard point of view."
Minister Laing added that changes in the way business is done "is not a concern to us primarily because these changes in many ways reflect enhanced transparencies, enhanced rules for doing business, so that business persons will know that everybody is on the same footing in terms of what is required to start, operate or exit a business."
WTO also provides for countries to be able to provide some safeguards to vulnerable sectors of their economy.
"This too will be a part of what is negotiated," said Mr Laing, "because at the core of our negotiations is the fact that we want WTO and its members to have regard for our development needs and our peculiar circumstances as small vulnerable economies so that our positions are put with a view to them recognising that whatever obligations are placed on The Bahamas, they should be growth and development enhancing."