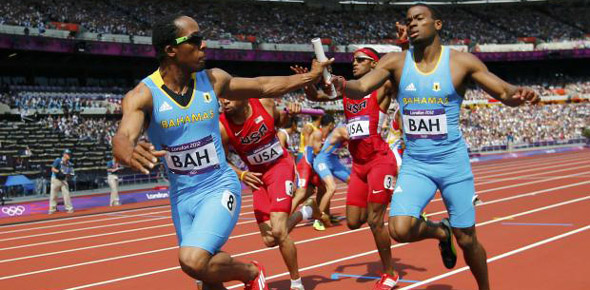 LONDON, England (August 9) – The Bahamas Men's 4 x 400m Relay team consisting of Chris Brown, Demetrius Pinder, Ramon Miller and Michael Mathieu are on their way to the finals after coming 1st in their heat today and with a best time overall.
Bahamas finished with 2:58.87, The United States with 2:58.87 and Trinidad and Tobago with 3:00.38.
Finals are set for Friday, August 10th at 3:20pm (CT).
Results Table
Heat 2
1.  Bahamas
Ramon Miller / Demetrius Pinder / Michael Mathieu / Chris Brown
2 minutes 58.87 seconds Q
2.  U.S.
Manteo Mitchell/Joshua Mance/Tony McQuay/Bryshon Nellum
2:58.87 Q
3.  Russia
Maksim Dyldin/Denis Alekseyev/Vladimir Krasnov/Pavel Trenikhin
3:02.01 Q
4.  Australia
Steve Solomon/Ben Offereins/Brendan Cole/John Steffensen
3:03.17
5.  Japan
Kei Takase/Yuzo Kanemaru/Yoshihiro Azuma/Hiroyuki Nakano
3:03.86
.   Jamaica
Dane Hyatt/Riker Hylton/Jermaine Gonzales/Errol Nolan
DNF
.   Dominican Republic
Gustavo Cuesta/Felix Sanchez/Joel Mejia/Luguelin Santos
DQ
.   Venezuela
Arturo Ramirez/Alberto Aguilar/Albert Bravo/Jose Melendez
DSQ
Heat 1
1.  Trinidad & Tobago
Lalonde Gordon/Jarrin Solomon/Ade Alleyne-Forte/Deon Lendore
3:00.38 Q
2.  Britain
Nigel Levine/Conrad Williams/Jack Green/Martyn Rooney
3:00.38 Q
3.  Cuba
William Collazo/Raidel Acea/Oreste Rodriguez/Omar Cisneros
3:00.55 Q
4.  Belgium
Nils Duerinck/Jonathan Borlee/Antoine Gillet/Kevin Borlee
3:01.70
5.  Poland
Piotr Wiaderek/Marcin Marciniszyn/Michal Pietrzak/Kacper
Kozlowski                       3:02.86
6.  Germany
Jonas Plass/Kamghe Gaba/Eric Krueger/Thomas Schneider
3:03.50
7.  Kenya
Boniface Ontuga Mweresa/Vincent Mumo Kiilu/Boniface
Mucheru/Alphas Leken Kishoyian          3:21.01
.   South Africa
Shaun De Jager/Ofentse Mogawane/Oscar Pistorius/Willem de Beer
DNF
Qualified for Next Round
1.  Bahamas
Ramon Miller/Demetrius Pinder/Michael Mathieu/Chris Brown
2 minutes 58.87 seconds
2.  U.S.
Manteo Mitchell/Joshua Mance/Tony McQuay/Bryshon Nellum
2:58.87
3.  Trinidad & Tobago
Lalonde Gordon/Jarrin Solomon/Ade Alleyne-Forte/Deon Lendore
3:00.38
4.  Britain
Nigel Levine/Conrad Williams/Jack Green/Martyn Rooney
3:00.38
5.  Cuba
William Collazo/Raidel Acea/Oreste Rodriguez/Omar Cisneros
3:00.55
6.  Belgium
Nils Duerinck/Jonathan Borlee/Antoine Gillet/Kevin Borlee
3:01.70
7.  Russia
Maksim Dyldin/Denis Alekseyev/Vladimir Krasnov/Pavel Trenikhin
3:02.01
8.  Poland
Piotr Wiaderek/Marcin Marciniszyn/Michal Pietrzak/Kacper
Kozlowski                       3:02.86