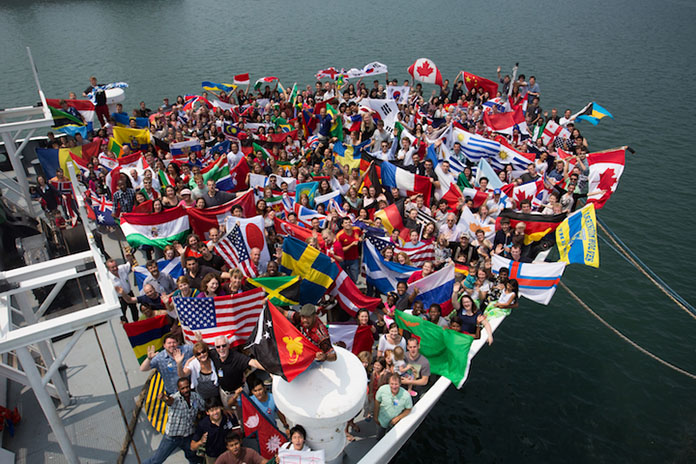 Shawna Sands, one of Logos Hope's Bahamian volunteersogos Hope, the world's largest floating book fair, will soon bring its international crew with their life-changing stories to Freeport, The Bahamas.
Shawna Sands from Nassau is one of Logos Hope's 400 volunteers. She first came to the ship in 2014 as part of a three-month Short Term Exposure Programme, working in the bookfair. Having fallen in love with the ship's vision, Shawna re-joined in late 2015 for two years.
She first heard about Logos Hope at a conference. Learning about the vision and purpose of the ship sparked a passion in her heart that she couldn't shake off. Even though it sounded like a wild idea in the beginning, she decided to step out in faith and make this surreal journey a reality.
Logos Hope's 400 volunteers from over 60 countries in the annual bow photograph"Living in this vibrant community has taught me how to see the world outside of my bubble or beyond my personal views, to love others despite our differences," Shawna said. "It's a very unique, life-changing experience where you can encounter the world in one place." 

Now, Shawna is part of the advanced preparation department, which manages the necessary preparations for new ports. She's excited to see how the ship will impact the lives of other Bahamians as it did to her.
Shawna is one of the ship's 400 volunteers who have come from over 60 nationalities, leaving behind families, jobs, and homes. The crew offers a unique example of unity in cultural diversity. Some come with qualifications to fill specific roles such as engineering officers, plumbers, carpenters, bookkeepers, cooks, and other professionals; many young people come with no qualifications except a willingness to serve. Although they have different backgrounds, the crew-members agree on a common goal: serving people through social service projects and good literature.
MV Logos Hope is operated by GBA Ships e.V., an international, charitable organization registered in Germany. Since 1970, the organization has welcomed over 45 million visitors up the gangways in over 160 countries and territories around the world.
MV Logos Hope will open to the public in Freeport at Freeport Harbor, Berth 14 from July 29 through August 6, 2017. Opening hours are as follows: Tuesday through Saturday: 10:00 AM – 9:00 PM; Sundays: 2:00 PM through 9:00 PM. Closed on Mondays. Entrance fee is $1 per person. Adults 65 and over enter for free. Children under 12 years old enter for free, but must be accompanied by an adult.