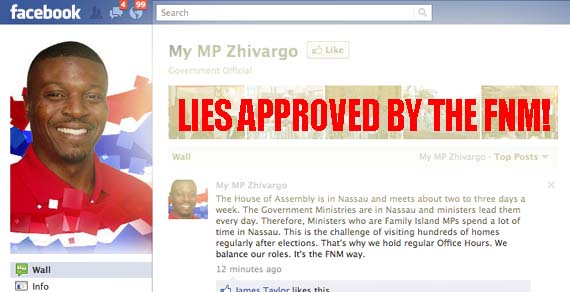 This morning Bahamas Press woke up to another blatant DAMNABLE LIE approved and published by Junior Minister Zharvigo 'Monavie' Laing. There he is stating that the Parliament of the Bahamas meets, "about two to three days a week".

It is untrue and an outright LIE to suggest such. The Parliament of the Bahamas has not met in two weeks and continues to go on long lengthy breaks especially when PAPA is out of town. Things are so bad with the One Man Cabinet, Papa went to the Royal Wedding in London and since his travels of fine dining and lavish morning suits, NO PARLIAMENT or Cabinet has met. Fact is, the FNM is such a one man show, they could not even congratulate themselves on the anniversary day [MAY2nd, 2007], when the people of the country elected them to power! They have NO SHAME!
But here's a man who told us there was no pending recession in 2007. Here's a man who could not tell Wendall Jones what is the National Debt. Here a Minister who could not say what are the unemployment figures; particularly in Grand Bahama where hundreds of his constituents are looking for a job. And here's a man who told us there is no difference between 49% and 51% during the STINK SWEETHEART SALE of BTC to Cable and WIRELESS.
LYING LAING, Bahamians know when the House meets; they have Channel 40 and ZNS to tell them that! You DON'T HAVE TO LIE SO AND TRY MAKE US LOOK FOOL!
UNTRUTH TOLD ON LYING LAING'S FACEBOOK: The House of Assembly is in Nassau and meets about two to three days a week. The Government Ministries are in Nassau and ministers lead them every day. Therefore, Ministers who are Family Island MPs spend a lot of time in Nassau. This is the challenge of visiting hundreds of homes regularly after elections. That's why we hold regular Office Hours. We balance our roles. It's the FNM way.