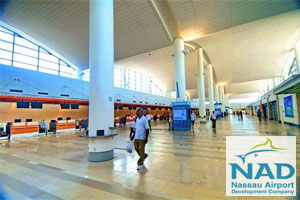 Nassau, Bahamas — More problems developing at LPIA after a female was busted with drugs.
Bahamas Press continues to warn the government that security at LPIA is fast becoming a crisis in the country where a few misguided individuals could place our tourism product in jeopardy.
A 27-year-old Windsor Lane off East Street woman was arrested after she was found in possession of two and a half (21/2) kilos of suspected Cocaine.
Officers of the Airport Police Station arrested the female shortly after 1:00 pm on Sunday afternoon as she entered the Bahamas Customs Hall of the Lynden Pindling International Airport (LPIA), after disembarking from a flight from Panama.
The drugs have an estimated street value of twenty-five thousand ($25,000.00) dollars.
The latest bust proves that something continues to be very wrong at LPIA where planes are going missing regularly, baggage handlers are getting caught with drugs and individuals are determined to risk the lives of ordinary people by carrying illegal substances on aircrafts.
BP warns the government to quickly put LPIA on LOCK! Too many crimes are happening out there!
Lizzy youths held up a jitney with knife and handgun –

Police are questioning an 18-year-old male of Yamacraw Estates and a 17-year-old juvenile male of Elizabeth Estates [LIZZY] in connection with an armed robbery, which occurred on Friday.
According to reports around 2:20 pm the males robbed two (2) passengers along with the driver of a bus, which was traveling west along Carmichael Road of an undetermined amount of cash.
Officers of the Southwestern Division (Carmichael Road Police Station) arrested the males a short time after the incident in the area Allen Drive off Carmichael Road with the stolen property.
Police also confiscated from the males a knife and a handgun. Active police investigations continue.
We report yinner decide