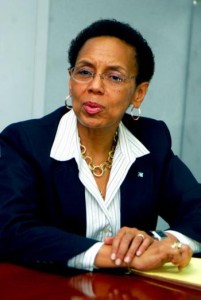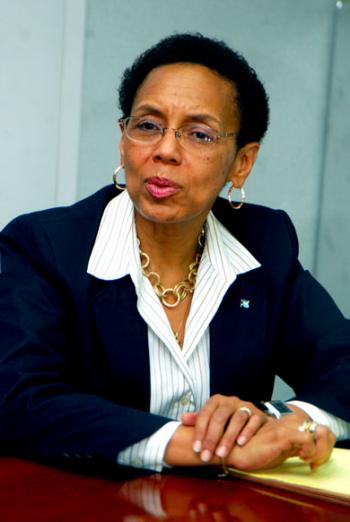 Speech of
Senator Allyson Maynard-Gibson
at the 55th Annual State Convention of
The Improved Benevolent and Protective Order of Elks of the World under the theme
"Reviewing the Past, Charting The Way in Fraternal Excellence 2011 and Beyond"
Curfew Elks Centre
Hospital Lane
Wednesday, 8th June, 2011
Good evening to the honourable and venerable members of The Improved Benevolent and Protective Order of Elks of the World
It is an honour and distinct pleasure for me to have been invited to address you on this most auspicious occasion, the 55th Annual State Convention held under the theme "Reviewing the Past, Charting the Way in Fraternal Excellence 20011 and Beyond"
The Improved Benevolent and Protective Order of Elks of the World is one of the most august organizations in the USA , The Bahamas and in every country in which it has established a presence.
A Google search will reveal the grand making and stellar accomplishments of the founders of Improved Benevolent and Protective Order of Elks of the World and its leaders—nationally and internationally. These contributions include the fight for civil rights and all related areas including but not limited to education, health care, civil liberties, access to justice and youth development.
The contributions of Improved Benevolent and Protective Order of Elks of the World to The Bahamas start with noting the highly esteemed nation builders and leaders at the foundation of the Improved Benevolent and Protective Order of Elks of the World which started in The Bahamas in 1908. It became independent from the Florida State Association in 1953. The Hon. Dr. Jackson L. Burnside served as the first State President, followed by Hon. Samuel G. Williams, Hon. Urban E. Bostwick, Hon. Henry Dorestant, Hon. Simeon L. Bowe and presently is Hon. Dr. Winston C. Rolle.
The Auxiliary State was established in 1954. Hon. Mrs. Mildred Moxey served as the First Daughter President, followed by Hon. Mrs. Mabel A. Bostwick, who served for forty (40) years. The Hon. Cecelia Cooper is the present serving Auxiliary State President.
Hon. Dr. Lillian A. Archer served as the first Grand Temple Officer to be elected from the Bahamas; this was followed by Hon. Mrs. Nellie Cornellia Williams, Hon. Mrs. Wealthy Gomez, Hon. Mrs. Ivy Mackey and Hon. Mrs. Thelma P. Lockhart. Presently serving is Hon. Dr. Zelrona Mackey and Hon. Dr. Linda Moxey- Brown.
Hon. Dr. Winston C. Rolle served as the first Bahamian elected to serve in the Grand Lodge, followed by Hon. Harcourt Brown of Bimini. Others with Grand Lodge/ Temple appointment were: Nurse Persis Rodger, Dr. Carlos Mulraine, Rev. Dr. Raymond Jones, Ven. I. Ranfurly Brown, Bro. Earnel R. Hanna, Rt. Hon. Sir Lynden O. Pindling and Sir Cyril Fountain.
I take the time to mention all of these names of nation builders on this auspicious occasion. We must never forget and we must honour those before whose shoulders we stand.
I also note that as with the U.S.A., the Improved Benevolent and Protective Order of Elks of the World's members were involved in the development and implementation of almost every if not every landmark event and institution in our beloved Bahamas.
I know about the importance of the Improved Benevolent and Protective Order of Elks of the World. I know that when I was growing up Elks led the way in molding our youth. They knew than and acted upon the principles that it takes a Village to raise a child and that you bend the tree while it's young. Elks were involved in Boys' and Girls' Brigade, Scouts and Guides, bands and many other forms of youth development.
So today I call upon you to reclaim your noble heritage. I call upon you to reclaim daily the tremendous influence that the Improved Benevolent and Protective Order of Elks of the World
used to exert upon national development
I especially ask you to exert your considerable influence in support of Bahamian families. The vast majority of the problems that we experience today can be attributed to the breakdown of family life and the erosion of the family foundation of our society.
Please join others who are calling for fathers to support their children.
The Almighty God ordered creation so that every child has a mother and father. It is a part of God's plan that mother and father raise children. I applaud the many hard working single parent heads of homes who are doing their best every day to raise their children. I speak tonight on their behalf. Fathers your children need you. Any differences that you may have with their mothers should not and must not affect your relationship with your children. Relationship includes giving generously to your children your time and supporting them with your treasure— ALL of your children.
Not one child ever asked to be here. I support the UN Convention on the Rights of the Child. Every child has the right to know his or her parents. In my view, this right includes the right to have the name of both parents on its birth certificate.There are many good reasons why every child should know his or her father.
And mothers please, do not use your child as a weapon in your relationship with his or her father. Members of the Improved Benevolent and Protective Order of Elks of the World you can start right here, right now. Will you encourage your members, your family, your friend, your colleagues to take care of their children? Can you imagine the good days when children knew that they were loved by all adults in the Community—even when they were being disciplined?
I also ask you in support of families to use your voices to insist that the Government act to ensure that the head of every household in The Bahamas has a job.
We must be concerned when the Government causes a situation to exist whereby the single parent head of a household is put out of a job.
Many Bahamians are trying to do the right thing. How are they to pay rent, their mortgages, school fees, buy food, school uniforms, utilities, etc. when the Government and many of its agencies has laid them off or caused them to be laid off. In this economy in particular the impact of the loss of this key and critical income is devastating.
In my view it is unethical to lay off or caused to be laid off the sole breadwinner in any family. Our country is so small that it is possible to know whether someone is the sole breadwinner in a family.
I believe that the Hon. Dr. Jackson Burnside and all that followed him as State President and The Hon. Mrs. Mildred Moxey and all that followed her as First Daughter President would have had deep concern about this state of affairs. Their fight for justice in The Bahamas support my view. What would they have done?Initiate a Petition? Speak to Members of Parliaments and Cabinet Ministers?Otherwise exert pressure on decision makers?
Would they have asked the Government to examine its priorities?
Also, on the matter of 21st nation building, would these businessmen have asked the Government and Government agencies to insist that when Government agencies place deposits that they are placed in Bahamian owned banks? Would they have asked the Government to insist that any company in which the Government and or any Government agency invest has a Bahamian CEO? Would they have insisted that such company have a well known training program for every Bahamian employee so that those Bahamian employee could design a career path and plan what they need to accomplish the milestones on that career path?The honourable and stellar and groundbreaking records of your forebears lead me to answer "YES" to these questions!
Honourable Members of the Improved Benevolent and Protective Order of Elks of the World your organization is as relevant and important to national development now as it was in 1953 and 1908.
Indeed your voices are critical to the Development of the 21st Bahamas. I ask you please to think on these things. You stand on a firm foundation.
I again congratulate you on your 55th Anniversary as an independent State Association and pledge my support.