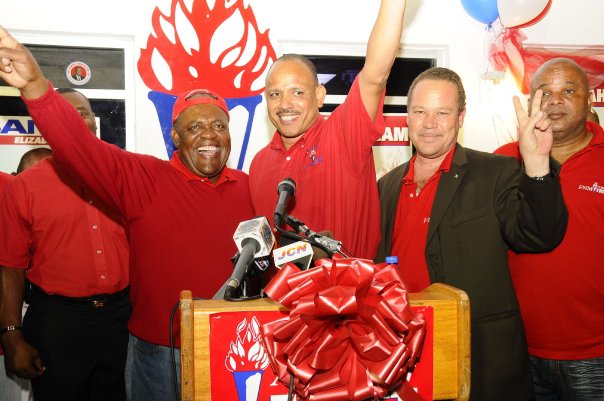 FNM leadership rallying in Elizabeth on Tuesday night.
Miami, Florida — There was a big rally in Elizabeth last night as the great debate for the prized constituency took place. The nation was watching Jones Communications Network channel 14 as candidates presented their platform. However, while candidates were debating, FNM operatives are currently in the United States preparing to fly in some 135 Students and Bahamian–Americans into the capital attempt to STEAL the by-election.
Bahamas Press was the first media organization here in the country to alarm the public that some 700 people in Lizzy cannotlocated in the constituency. We told you how Ingraham stopped publishing the voter's list in 1993 and thus forced the man, we liken to 'Papa Doc', to publish it.
You should know FNM candidate Duane Sands boycotted the debate on Tuesday night. He could be heard in Lizzy telling a handful of FNMs bussed in from Blue Hills his debate is with the people of Elizabeth and not the candidates.
Bahamas Press knows however why the FNMs didn't participate and we have the details.
On Monday a senior goon of the Free National Movement and an employee of a government corporation had flown to the United States to carry out his orders by the Party leadership.
Bahamas Press has two agents on the ground right now in Miami, Florida tailing this hightail FNM agent and from information gathered by us isn't good. In fact, after following this story for an entire day, we have notified the minister of national security of this CRIME NOW UNFOLDING. Our words to Tommy Turnquest is to tell this hightail FNM to cease and desist or face a terrible embarrassing public exposure with his name and photos of the CRIME now unfolding in Miami, Florida!
The FNM agent is now in Miami organizing flight arraignments for 75 FNM Bahamian Students and 60 Bahamians residing in the United States, who have not been in the Bahamas for 20 years, to fly into Nassau this Saturday and Sunday.
Information now in the possession of BP confirms the person spearheading this exercise for the FNM is one of the Party's chief ELECTION goon who orchestrated the registering of scores of illegal persons in Blue Hills in the 2007 general elections causing the defeat of the former PLP MP.
Bahamas Press has engaged an American news affiliate to monitor these individuals, and we will spare no one in exposing this CRIME NOW IN PROGRESS!
Investigations by BP will continue.