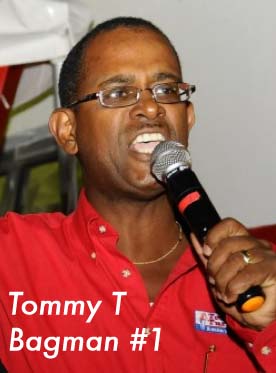 Freeport, GB — Another family member of the minister of health, Mrs. Louise Minnis, wife of Cyril 'Boxer' Minnis, a five star general of the FNM, meritorious council member of the Party and brother of Dr. Hubert Minnis was unceremoniously terminated at the BCB Freeport station today.
Our sources on the ground says 'Boxer' Minnis is highly enraged at the absolute lack of respect shown to him by Tommy Turnquest, whom he felt should have at least called him before the bloodbath.
Our source further said Boxer Minnis noted: Having regard for all the work I've done for the FNM and all the work I've done in Marco City from Cecil Wallace Whitfield time to Zharvigo Laing; this is the respect I get?
Worst of all it appears Tommy Turnquest has a personal vendetta against his colleague, Dr. Hubert Minnis. Turnquest has sent home two of Minnis' relatives. We remind Tommy when you dig one ditch dig two.
He has also sent home Cancer patients in the height of International Cancer Month. We pray eternal damnation upon his wretched soul!
Tommy Turnquest you have NO SHAME!