NEMA officials in the country were asleep at the wheel as usual!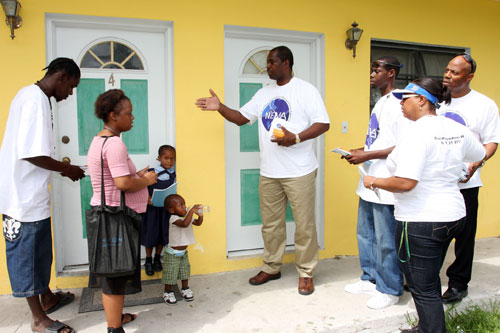 NASSAU, BAHAMAS — Bahamas Press has learned the Bahamas has failed a Tsumani test by UNESCO after MET Officials and NEMA deadweights failed to alert the citizens of a pending TEST threat to the coast.
A tsunami warning exercise involving 31 Member States* is taking place on 26 March in the Caribbean. Organized under the auspices of UNESCO's Intergovernmental Oceanographic Commission (IOC), it is designed to evaluate the response capacity of Caribbean countries and adjacent regions in the event of a dangerous tsunami.
The scenario will simulate an earthquake and tsunami generated 430 kilometres West of Gibraltar on 26 March at 10 am UTC, modelled after the earthquake and tsunami that occurred on November 1st, 1755. This historic event affected the coasts of Portugal, Spain, North Africa, and the Caribbean. The first tsunami waves reached Lisbon in about 20 minutes, and struck in Antigua a little over 9 hours later.
The fictitious alert messages will be sent to participating countries by the Pacific Tsunami Warning Centre (PTWC) and the United States National Tsunami Warning Centre (NTWC). The goal is to test the Tsunami and other Coastal Hazards Warning System for the Caribbean and Adjacent Regions, which was established in 2005 by the countries of the region in collaboration with IOC-UNESCO, ensuring that the national focal points responsible for the dissemination of the alert receive timely warning. Previous experience underlines the crucial importance of rapid transmission of information to minimize the damage caused by tsunamis.
Over the last 500 years, 75 tsunamis have occurred in the Caribbean. This figure represents about 10% of the entire number of oceanic tsunamis in the world during that period. Tsunamis have killed more than 3,500 people in the region since the mid-19th century (source: National Oceanic and Atmospheric Administration, NOAA). In recent decades, an explosion in population growth and the number of tourists in coastal areas have further increased the region's vulnerability.
The Tsunami and other Coastal Hazards Warning System for the Caribbean and Adjacent Regions was established in 2005, replicating the model of the Pacific, Indian Ocean and Northeast Atlantic systems.
* Antigua and Barbuda, Aruba, *Bahamas*, Barbados, Belize, Bolivarian Republic of Venezuela, Colombia, Costa Rica, Curaçao, Dominica, Dominican Republic, France (Martinique, Guadeloupe, St Martin, Guyane), Grenada, Guatemala, Guyana, Haiti, Honduras, Jamaica, Mexico, Netherlands (Bonaire, Saba, Sint Eustatius), Nicaragua, Panama, Saint Kitts and Nevis, Saint Lucia, Saint Vincent and the Grenadines, Sint Maarten, Suriname, Trinidad and Tobago, United Kingdom (Anguilla, British Virgin Islands, Bermuda, Cayman Islands, Turks and Caicos), United States (Puerto Rico, US Virgin Islands).