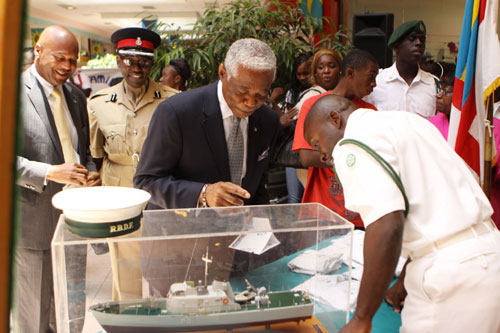 Nassau, The Bahamas – A 2011 Secondary School Drug Prevalence Survey indicated that 40 per cent of public and private school secondary students were exposed to drugs by friends who use an illicit substance.
The Survey also indicated that 28.2 per cent of all 12th Grade males had tried marijuana at least once in their lifetime and that males were using marijuana at more than double the rate of their female counterparts.
Additionally, of those who admitted smoking marijuana within the past year, 28.6 did so on a weekly or more frequent basis.
The Survey showed, however, that the "proportion of students receiving drug prevention education in schools, was at an unacceptably low level, was not universally implemented within schools, and varied its coverage's across schools."
"The results speak to the need to implement and/or strengthen substance abuse prevention programmes in the primary schools with reinforcements continuing throughout the students' school career while ensuring that programmes are age appropriate," Minister of National Security, Dr. the Hon. Bernard J. Nottage said.
"The lives of too many of our young people, especially young men who had tremendous potential to contribute to the further development of this nation, have been cut short due to their involvement in the illicit drug trade and the use of illicit drugs," Dr. Nottage added.
Addressing an exhibition held to commemorate International Day Against Drug Abuse and Illicit Trafficking, Minister of National Security, Dr. Nottage cautioned students and adults to stay away from the sale, distribution and/or use of illicit drugs.
"The call goes out to all Bahamians and residents of The Bahamas alike, not to involve yourselves in the trafficking, sale and/or use of illicit drugs (as) to do so would most probably result in arrest, conviction and incarceration and worse, the loss of your health, well-being and life and that of family members and friends," Dr. Nottage said.
"Perhaps you have seen family members, friends or acquaintances being led to court by the police or you might have even had the sad and devastating experience of seeing loved ones lying dead in the morgue as a result of crime.
"Drugs and Crime are a waste of time," Dr. Nottage said, borrowing from a past theme for International Day Against Drug Abuse and Illicit Trafficking. "Therefore I suggest to you that you put your minds to positive activities such as education and learning a skill and unite with Bahamians who are doing a good job of staying away from drugs and crime."
Dr. Nottage said involvement in positive activities can be the "greatest anti-drug/anti-crime initiative because once a person is focused on positive activities, they are less likely to get involved in anti-social behaviour."
"For this reason, we must double our efforts in transforming the minds of our youth because it is through the redirecting of our people's mind, would we be able to have a change of behaviour that may radically reduce crime.
"Our dedicated Police, Defence and Prison Officers; our judiciary, our mental health professionals (nor) our teachers can do it on their own. It is going to take all of us collectively to make our schools, our homes and our communities safe. We must do it for ourselves and for generations unborn, because our survival depends on it," Dr. Nottage added.
The National Security Minister said the Government of The Bahamas is committed to "deploying every weapon in its arsenal" to counter crime and criminality in The Bahamas, including illegal drug trafficking.
"We must not allow a small percentage of misguided individuals to prevail in their endeavours to destabilise our country. We must continue to spread the message that drugs and crime are a waste of time," Dr. Nottage said.
Held at the Mall at Marathon, the exhibition was intended to assist in the dissemination of the anti-drug and anti-crime messages as part of the Government's Education and Awareness Campaign.
"It demonstrates the Government's commitment to draw to the public's attention, particularly the young, the destructive effects of illicit drugs and our determination to bring to justice, those who perpetrate crimes by engaging in nefarious activities associated with the drug trade," Dr. Nottage added.