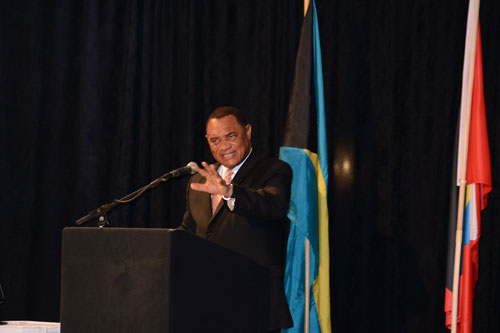 Nassau, The Bahamas – Prime Minister the Rt. Hon. Perry G. Christie cited the lack of skills as perhaps the greatest impediment to sustainable employment in the modern world, and particularly in developing countries.
"So it is fitting that the other area of discussion is the need for a renewed focus on education and skills development to improve competitiveness and foster job creation," the Prime Minister said at the Opening of the Caribbean Growth Forum (CGF) at Atlantis, Monday, June 24, 2013.
The CGF is an initiative to identify policies and initiatives aimed at inducing growth and creating jobs in the Caribbean region through analytical work, knowledge exchange and inclusive dialogue.
Its goal is to provide a platform for dialogue around the growth challenge with a view to identifying practical and implementable solutions that inspire action.
Its focus is to encourage insightful and lively discussions from countries and institutions across the Caribbean, reflecting diversity in experience.
Prime Minister Christie told participants of the workshop that this Government Administration recognises the critical importance of skills training in the scheme of development and has, with laser focus, adopted policies and programmes to address the skills gap obstructing sustainable development.
Prime Minister Christie explained that one of the first acts of this Administration was the creation of a National Training Agency.
"The core responsibility of the National Training Agency is to provide skills training for the citizens of this country to enable them to take advantage of the many opportunities being created by our renewed focus on investment."
The Prime Minister noted that in his closing speech during the budget debate, he enumerated the many job opportunities that would become available within the next 18-months.
"The most prominent is the opening of the Baha Mar development in 2014.
"Although significant, this is only half of the equation for growth and development in an economy."
He said there has to be people able to do the jobs, which are being created in the economy, and it is the Government's determination to ensure that the infrastructure and enabling environment are in place.
"This is most essential at this time in our history when the globalisation and technology fostered intra-regional competitiveness to a degree that was unthinkable a decade ago."
Prime Minister Christie said, "For decades our economies have been stymied in their growth potential by size and scale, yet we have been resilient and purposeful, surviving and developing in concrete ways which seem unimaginable.
"Fore of this kind are at once opportunities for reflection on our commonalities as they are occasions for us to create new platforms for sustained growth and development," he said.