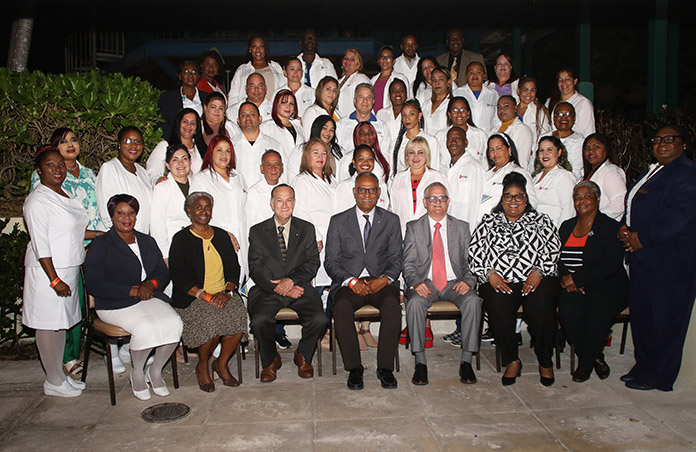 NASSAU, Bahamas — An appreciation ceremony was held at SuperClubs Breezes resort, January 30, 2023, to thank the remaining cohort of nurses from the Republic of Cuba who joined the cadre of healthcare workers at the Princess Margaret Hospital (PMH) to assist in the delivery of hospital services and patient care in face of the impact of COVID-19.
The cohort originally comprised 42 nurses who started their duties on Monday, January 24, 2022. The ceremony was attended by some 25 remaining nurses.
Minister of Health and Wellness the Hon. Dr. Michael Darville thanked the Cuban Ambassador, His Excellency Julio Cesar Gonzalez Marchante, on behalf of the Prime Minister and his Cabinet colleagues, for Cuba's response to the call for help from the Bahamas Government.
"You came to us in one of our most dangerous moments. You came to us in the heat of the Delta Variant when many of our brothers and sisters lost their lives as a result of COVID," Minister Darville said.
"At the time that I went to Cuba, we had about 100 nurses in our healthcare system who were out as a result of COVID, while the developed world was recruiting our nurses left, right and centre."
He also noted that at that time The Bahamas could not even get vaccines.
"We are a Small Island Developing State. The world was hoarding the vaccines to developed countries and our population was very vulnerable because we did not have access to what the developed world had."
Minister Darville said, "But we had a friend 100 miles to the south of us who came to our rescue. You came to us at our most vulnerable moment. For that as a country, Your Excellency, we will forever be grateful to the Republic of Cuba."
The Minister noted that the nurses' services were so exemplary and needed, the contract, which was originally for three months, was extended to one-year. Despite this, he said it was time for the nurses to return home to their loved ones.
However, he explained that the relationship between the two countries has not ended as he is in negotiations with the Republic of Cuba for bringing in some additional biomedical engineers, physicians, respiratory therapists and HVAC specialists.