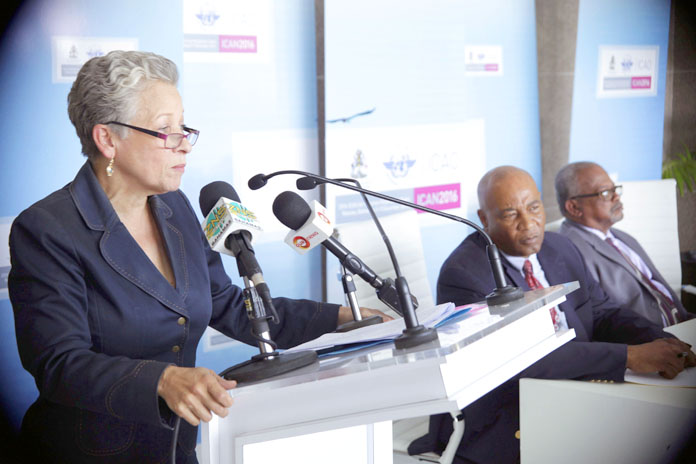 NASSAU, The Bahamas — The Ministry of Transport & Aviation announced The Bahamas will host the International Civil Aviation Negotiation Conference (ICAN) in New Providence, December 5th through 9th at the Multi-Purpose Conference Facility at the Thomas A. Robinson National Stadium. The announcement was made November 14th in the Conference Room of the National Stadium.
"This conference brings together approximately 1,000 International delegates from 100 member countries and 10 international member organizations of the International Civil Aviation Organization (ICAO). It creates opportunities for delegates to engage in bi-lateral and multi-lateral talks with a view to establishing agreements to further the growth and development of the aviation industry in the various countries and by extension the global aviation sector," said Minister Glenys Hanna Martin, Transport & Aviation.
The Bahamas signed "two monumental agreements with Turkey and the United Arab Emirates, according to ICAN at the 39th ICAO General Assembly.
"These agreements make it possible for us to establish scheduled flights between The Bahamas and those two countries. They also create the potential for code share agreements to be negotiated and established between our Airlines and Tour Operators and the airlines from Turkey and U.A.E to allow for enhanced growth and development of aviation and tourism," said Minister Hanna Martin.
"While at the General Assembly, The Bahamas met with the Secretary General and President of ICAO under the No Country Left Behind Strategy to develop and improve our Effective Implementation Percentages relative to the Standards and Recommended Practices."
Minister Hanna Martin said the meetings come at a time when the Bahamas is in the process of major aviation sector reform.
"At the ICAN Meetings to be held here, The Bahamas will sign six additional Air Service Agreements with Qatar, Singapore, New Zealand, Curaçao, Brazil and Kuwait. The team will also start new negotiations with 20 additional countries from around the world," said Minister Hanna Martin.
"ICAN 2016 will also have a direct, positive impact on the economy. There are several participating hotels that will benefit from increased occupancy; ground transportation companies and other local vendors and businesses will derive, if not direct, spin off benefits from the conference." She noted that delegates are inquiring about opportunities to experience New Providence and the country.
Minister Hanna Martin concluded that as part of the Conference they will officially observe International Civil Aviation Day with a special ceremony on December 7th, marking a first for such an observance in The Bahamas.